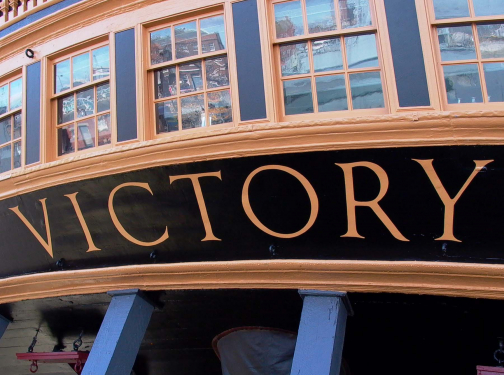 Portsmouth Historic Dockyard is delighted to offer its programme of interactive learning opportunities and resources to enthuse and inspire learners of all ages and abilities. Using our world-class ships, collections, expertise and facilities, our programmes provide unique and unforgettable learning experiences. Our site-based activities combine inspiring hands-on experiences with innovative digital resources to bring subjects to life.
Schools Programme 22/23
A Discovery Visit is a teacher led self -guided museum visit to HMS Victory, HMS Warrior 1860 or HMS M33. We are excited to be able to offer you a choice of Discovery Visit combined with a Discovery Challenge pack for pupils and a teacher trail to support your visit.
This means you can tailor your school visit to suit your curriculum, visiting multiple attractions under the same ticket. And in addition, a visit to the National Museum of the Royal Navy galleries is included with any UK school visit booked.
There is now even more to explore with our Discover More! offer Teachers can book this enhanced visit which includes a choice of Discovery Visit plus the choice of themed Discovery Chest and supporting Discovery Back Pack. Inside each Discovery Chest are suggested activities and resources designed to encourage pupil led enquiry to answer key topic questions within a chosen museum gallery.
The Discover More Back Packs are portable activity packs for use on HMS Victory, HMS Warrior 1860 or HMS M33. Each pack contains a set of challenges and resources that encourage observation, discussion and imagination to support historical enquiry and creative writing.
Discover More Live is a brand new new offer introducing a gallery facilitated session with museum staff combined with a teacher self-led visit on a ship. Your school will have the opportunity to interact with costumed interpreters, handle real & replica artefacts and witness conservation in action.
Attractions to choose from are: HMS Victory, HMS Warrior and HMS M33. The National Museum of the Royal Navy galleries are included for all UK school visits. The Harbour Tour is only available as part of the Ultimate Explorer ticket which gives access to all our attractions.
Discovery visits

KS1 - 5

One attraction

£5 per pupil

Two attractions

£8 per pupil

Ultimate Explorer

£12 per pupil

Discover More visit

KS1 - 3

One attraction

£6 per pupil

Two attraction

£9 per pupil

Ultimate Explorer

£13 per pupil

Discover More Live

KS1 - 3

Ultimate Explorer

£13 per pupil

Accompanying free adults

1 free adult per 5 pupils

For health and safety and supervision we require the following minimum ratios:

KS1: 1 free adult per 5 pupils

KS2 – KS4: 1 free adult per 12 pupils

KS5: 1 free adult per 15 pupils

All group tickets are valid for one day only.
For further details about the full programme on offer, please download the brochure here.
Planning and booking your school visit
To make your school booking, please complete the booking request form here.
UK school visits are required to be booked at least 7 days in advance.
Schools not booked in advance cannot be accepted. To qualify for a UK school rate, a group must consist of a minimum of 12 paying persons
An indoor area is available in Boathouse 7 for groups with packed lunches. As space is limited booking is required.
Food and drink is not allowed anywhere in the museum other than in the dedicated lunch room.
There are no facilities on site to store lunch boxes.
HMS Victory: One of the decks of HMS Victory is also accessible with a handling activity and virtual tour available to enhance visits.
Touch tours and Audio Descriptive tours are also available. We have multi-sensory kitbags for use in galleries. Wheelchairs, magnifying glasses and large print text can also be arranged in advance.
HMS Warrior: The ship is accessed via a ramp. Because she is still afloat the gradient can change with the tides and we would recommend entering at low tide if that is a concern.
HMS M.33: The is more accessible than some of her older counterparts. Wheelchair access to the lower deck is available via a lift and upper deck stairs are more generously spaced. There are some steep stairs in place and our Audio Visual Experience does not have subtitles and can be dark and upsetting for some.
The National Museum of the Royal Navy Galleries: The National Museum of the Royal Navy galleries are fully accessible to wheelchair users including a lift and toilets in every gallery.
Harbour Tour: Two manual wheelchair spaces are available on the Harbour Tours service (depending on the vessel).
Accessible toilets are available in the National Museum of the Royal Navy and Boathouse No.7.
The site and all activities are fully risk assessed and subject to safeguarding and health and safety policies. Further guidance around the facilities at our site can be found here:
We strongly advise a preliminary visit in order to familiarise yourself with the site and complete risk assessment paperwork. For groups already booked you will need to bring the booking reference as proof. On arrival you will issued with up to 3 adult tickets or at weekends and holidays 1 family ticket. For groups that haven't yet booked only 1 ticket will be available for the school.
Our maximum number for a Discovery Visit is 120 students. Our maximum number for a Discover More! visit is approx. 35 students.
The recommended visit length for each of our attractions is between 60 and 90 minutes. For a Discover More! visit, you have access to your chosen Discovery Chest and back pack for the day so you can tailor the length of the visit to suit your requirements.
We offer free access to supervising staff members during your visit, with ratios relevant to the age of your group (found within the 'prices' section). We do ask that large groups divide into smaller groups to move around our attractions and gallery spaces to avoid overcrowding.
Useful Resources
Keep up to date!
To keep up to date with the latest information regarding Portsmouth Historic Dockyard's learning programme, sign up to our mailing list.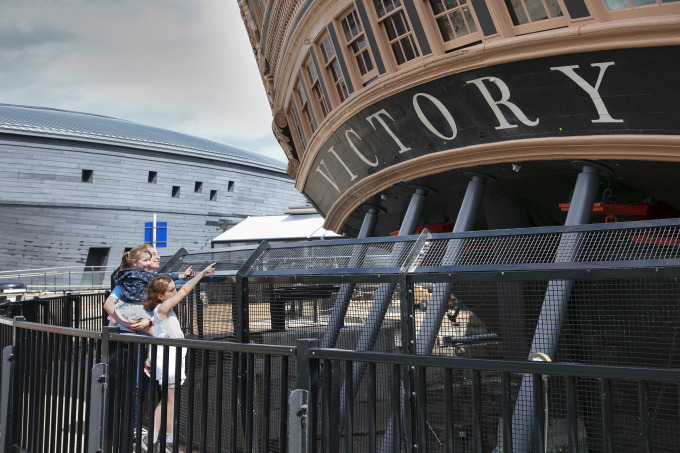 Got a question?
Please contact our dedicated groups and schools office, open Monday – Friday 09:30 – 16:30.
Contact us email: phd.learning@nmrn.org.uk - Telephone: 02392839766 (Opt 3)
 
Visit our other locations