What is a Trafalgar Night Dinner
Date published 18/10/2023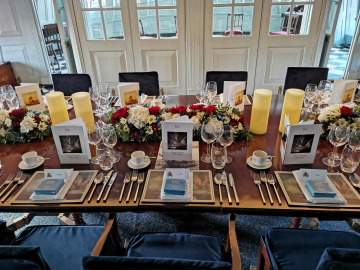 Every October the Royal Navy celebrates the British Victory at the Battle of Trafalgar with a special event - the Trafalgar Night Dinner. But what makes a Trafalgar Night Dinner and why is it still celebrated over 200 years later?
The Battle of Trafalgar took place on 21 October 1805. This date is commemorated annually by HMS Victory in a special service. This service is dedicated to honouring the death of Vice-Admiral Horatio Nelson, who died during the Battle. But did you know that there is another naval tradition tied to this day that goes back centuries?
On or around the 21 October the Royal Navy also celebrates the valour and victory of those who fought at the Battle by hosting special 'Trafalgar Night Dinners' all across the country. Below we break down what goes into a Trafalgar Night Dinner, why it's so important, and what you'd need to host one yourself. 
What is the Battle of Trafalgar?
The Battle of the Trafalgar took place on 21 October 1805, when 27 British Royal Naval ships defeated a combined French and Spanish fleet of 33 warships. It was thanks to this decisive victory that Napoleon Bonaparte's attempt to invade Britain was thwarted.
Vice Admiral-Lord Nelson's strategic battle plan is what ensured victory. His plan meant that just under 500 British sailors died compared to over 3,000 men from the combined fleet. Unfortunately, one of those casualties was Nelson himself, shot on the quarter deck of HMS Victory by an enemy's musket ball from the Redoubtable.
While news of the triumph, brought back to England by HMS Pickle, was greatly received, the death of Nelson was widely mourned. He was given a hero's burial on the return of his body to England.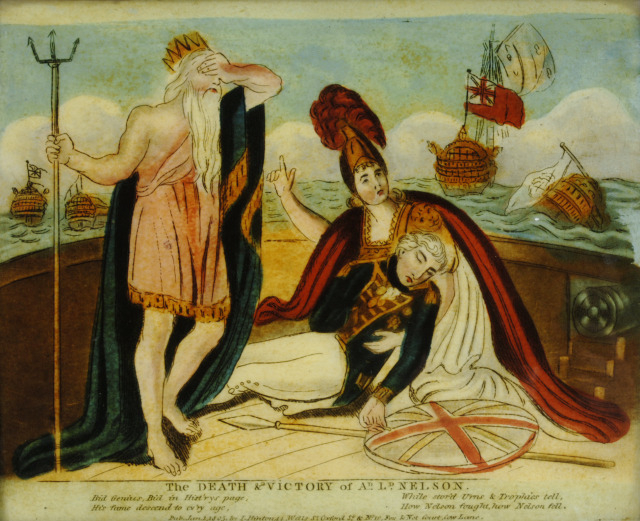 What is a Trafalgar Night Dinner?
Trafalgar Night Dinners were started to commemorate the Battle and Vice-Admiral Lord Nelson's memory. It is traditionally styled as a 'Mess Dinner'. Despite the name this is a formal style of dining in the Royal Navy, rich in its own traditions and customs. 
Nowadays Trafalgar Night Dinners can be celebrated anywhere, not just in messes. The naval traditions of the dinners have remained the same. Learn more about them and how to host your own below.
Hosting:
There are a number of hosting roles traditionally associated with a Trafalgar Night Dinner ("Chair", "Vice-Chair", "Guest of Honour"), each with their own jobs:
"Chair" – is the primary host and is in charge of the welcoming speech to attendees. They also set the pace of the meals as no guests are supposed to start eating until they have.
"Vice-Chair" - is the "second in command" for the meal. Their major role on the night is to give a toast to the ruling monarch.  
"Guest of Honour" - is responsible for toasting to the "immortal memory" of Vice-Admiral Lord Nelson. They may also give a small speech or talk after the meal has concluded. 
If you want to host your own Trafalgar Night Dinner, you can choose to have all, some, or none of these roles. As long as someone is willing to give the toasts (more on those later) you can still host a great night without formal roles.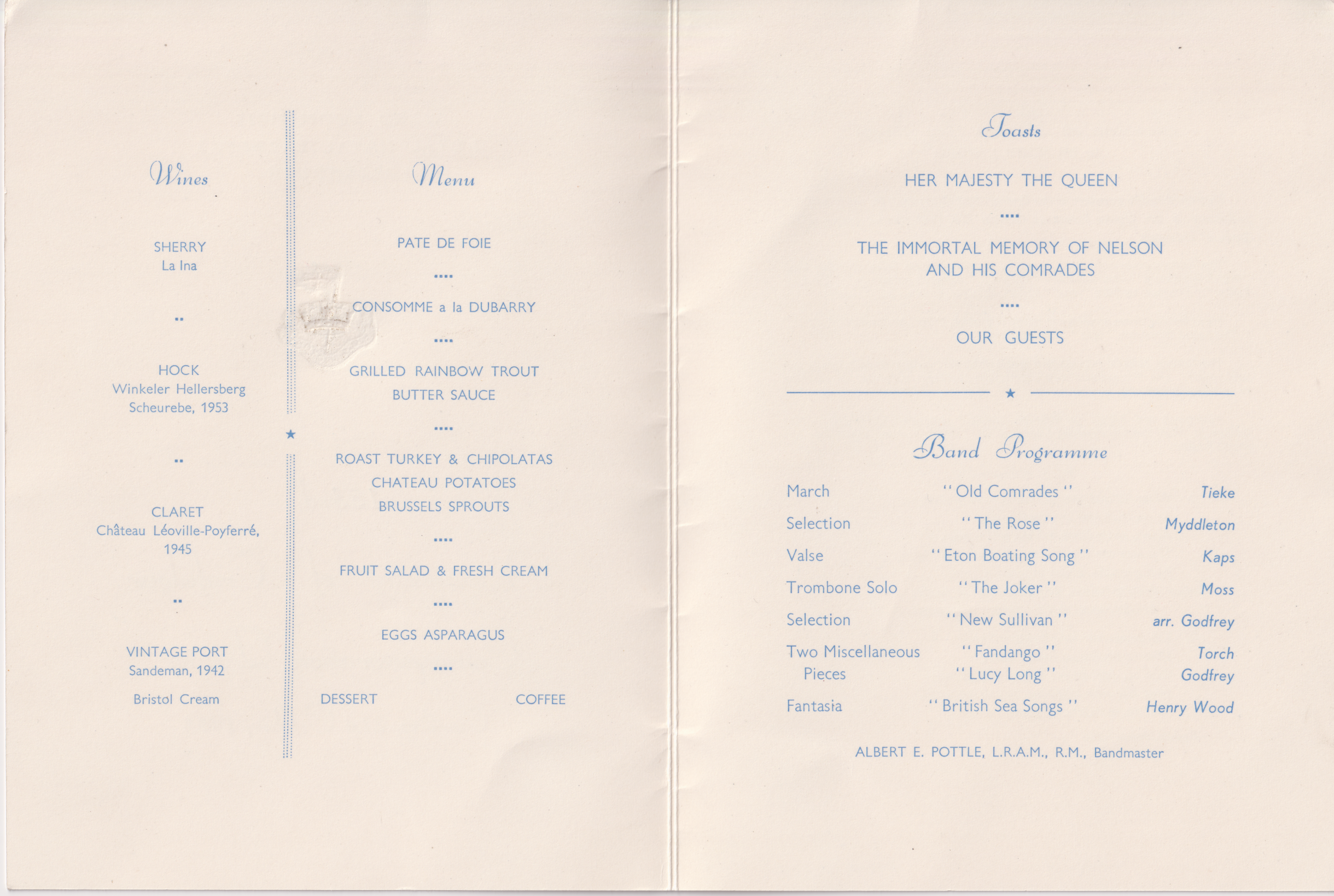 Dress Code:
The dress-code for a Trafalgar Night Dinner is 'Mess Undress'  or 'black tie', so it's a great opportunity to break out your fancy clothes. 
'Mess Undress' is a specific type of naval formal attire, consisting of jacket, navy blue trousers, either a blue waistcoat (men) or black cummerbund (women), a black bow tie, and a peaked cap. Women can also choose to wear a long skirt instead of trousers. Depending on your rank there will be additional elements, such as gold lace on your trousers or sleeves.  
Alternatively you can wear 'black tie' or formal evening clothes, such as a suit, evening dress, or tuxedo. If you're having your own Trafalgar Night Dinner you can chose the dress code, so pick something your and your guests will feel comfortable in. 
Table Setting:
Some Trafalgar Night Dinners can have hundreds of guests in attendance – which is a lot to fit around the dining table! However, on each table you can expect to find the following:
Menu – which will also include any toasts, speeches, or entertainment for the evening
Place names – seating  is set in advance so guests know which seat is theirs
Port (in decanters) – toasts are given with a glass of port 
The Menu:
Trafalgar Night Dinners are known for their extravagant menus (as you can see from some of the menus in our collection), and normally consist of three courses. The menu has evolved over the years, though fish is normally served as a starter.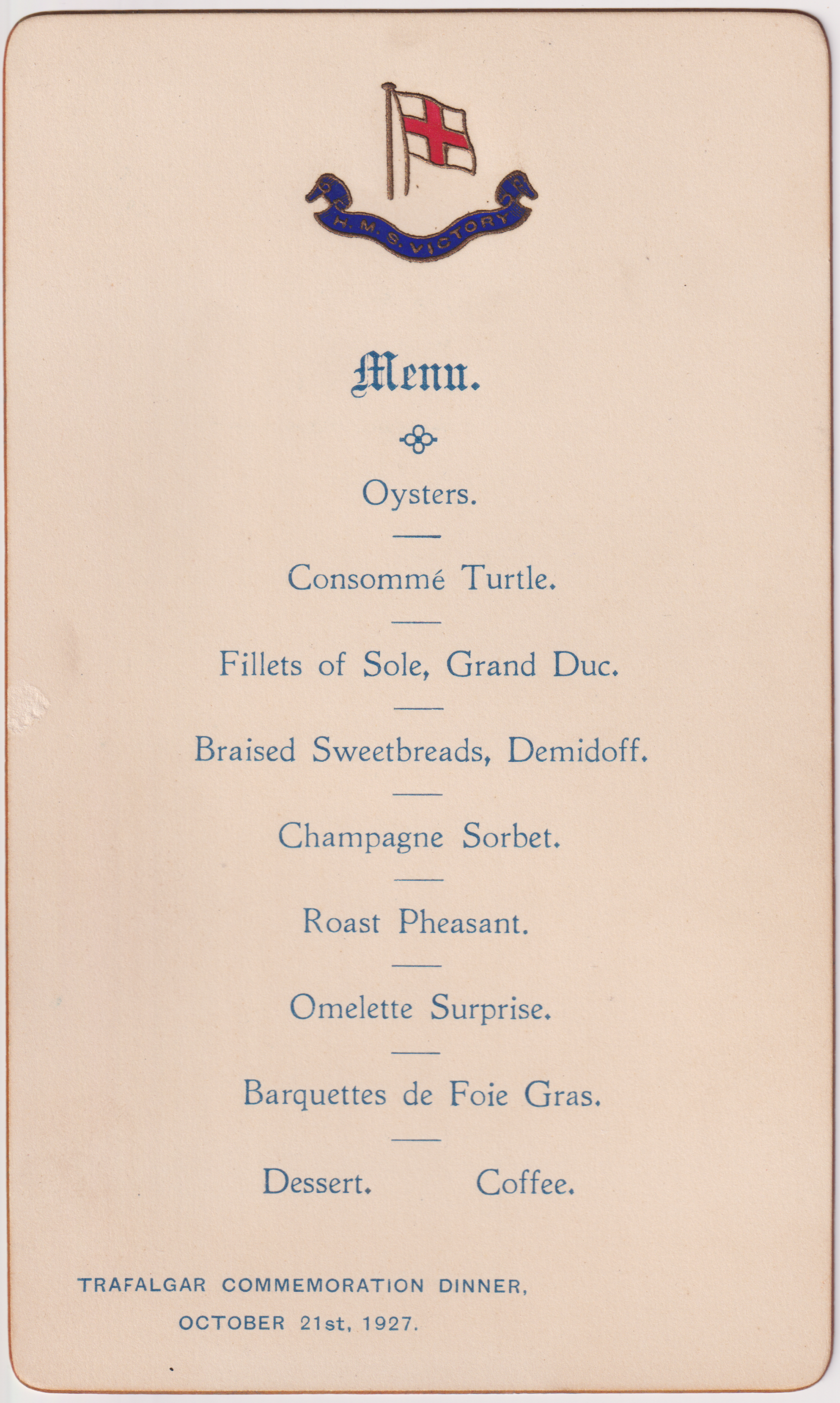 Nowadays it is expected that beef will be the main course. However, it's how the beef is served that makes it unique. When serving beef as a Trafalgar Night Dinner it is traditional to "parade the beef" around the room before serving. This is done by the chef, in chef whites, who carries the beef on a silver platter around the room. Sometimes there are drummers or a band, who play while the beef is being paraded (a popular choice is "The Roast Beef of Old England" originally written by Henry Fielding). After the chef has finished the parade he will bring the beef to the "Chair" to inspect. 
The pageantry doesn't stop there though. After the main course is finished a very special dessert is served – replica chocolate ships in the shape of HMS Victory. These ships are meant to be shared by an entire table, so can be enormous! They're also filled with whipped cream, chocolates, and sometimes even have lit sparklers in them! When it is time to have dessert, the servers will line up where all the guest can see them, forming a line of ships similar to the battle line Vice-Admiral Lord Nelson used at the Battle of Trafalgar. The servers will then walk the ships through the dining room and place a ship on every table. 
Toasts and Speeches:
Toasting is a huge part of a Trafalgar Night Dinner. First, the Chair will give a short speech welcoming everyone to the event. They'll then handover to the Vice-Chair, who will give a toast to the King or Queen. This toast is given seated, as is naval tradition. Finally, a toast will be given by the "Guest of Honour" to the "Immortal Memory of Lord Nelson". Unlike the earlier toast the "Immortal Memory" is given with everyone standing in silence, with only the "Guest of Honour" speaking. 
The wording of the "Immortal Memory" toast has also changed over the years, with various "Guests of Honour" adding their own take. The first record of this toast being given formally dates back to 1846 with Lieutenant John Pasco, who began hosting Trafalgar Night Dinners onboard HMS Victory. Originally, the toast was worded "To the Immortal Memory of Lord Nelson and those who fell with him" but over the years it became shortened to just the "Immortal Memory of Lord Nelson". The full wording was revised on the 200th anniversary of the Battle of Trafalgar, first by Dr Colin White in the Painted Hall of the old Royal Naval College Greenwich and then by Queen Elizabeth II in her toast in the Great Cabin of HMS Victory shortly after. 
With each toast port is served. Port is always served to the left of the pourer, with the bottle being passed from person to person. If you find that someone has held onto the port for too long simply ask them "Do you know the Bishop of Norwich?". This is supposed to be a subtle way of telling them to stop 'hogging' the bottle.
Entertainment:
Music is also incredibly important to a Trafalgar Night Dinner, with sea shanties and musical performances the main forms of entertainment. It's even traditional to announce dinner with a gong (although that may just be to get guest's attention!).
As expected, the song choices are normally nautical in nature. As you can see in the programmes attached to the menus in our collection these can be grand affairs with multiple musicians and singers. It's also expected that the guests will join in with some of the songs, especially the sea shanties. To ensure everyone can take part it's not uncommon to find full songs included in the individual menus to act as song-sheets.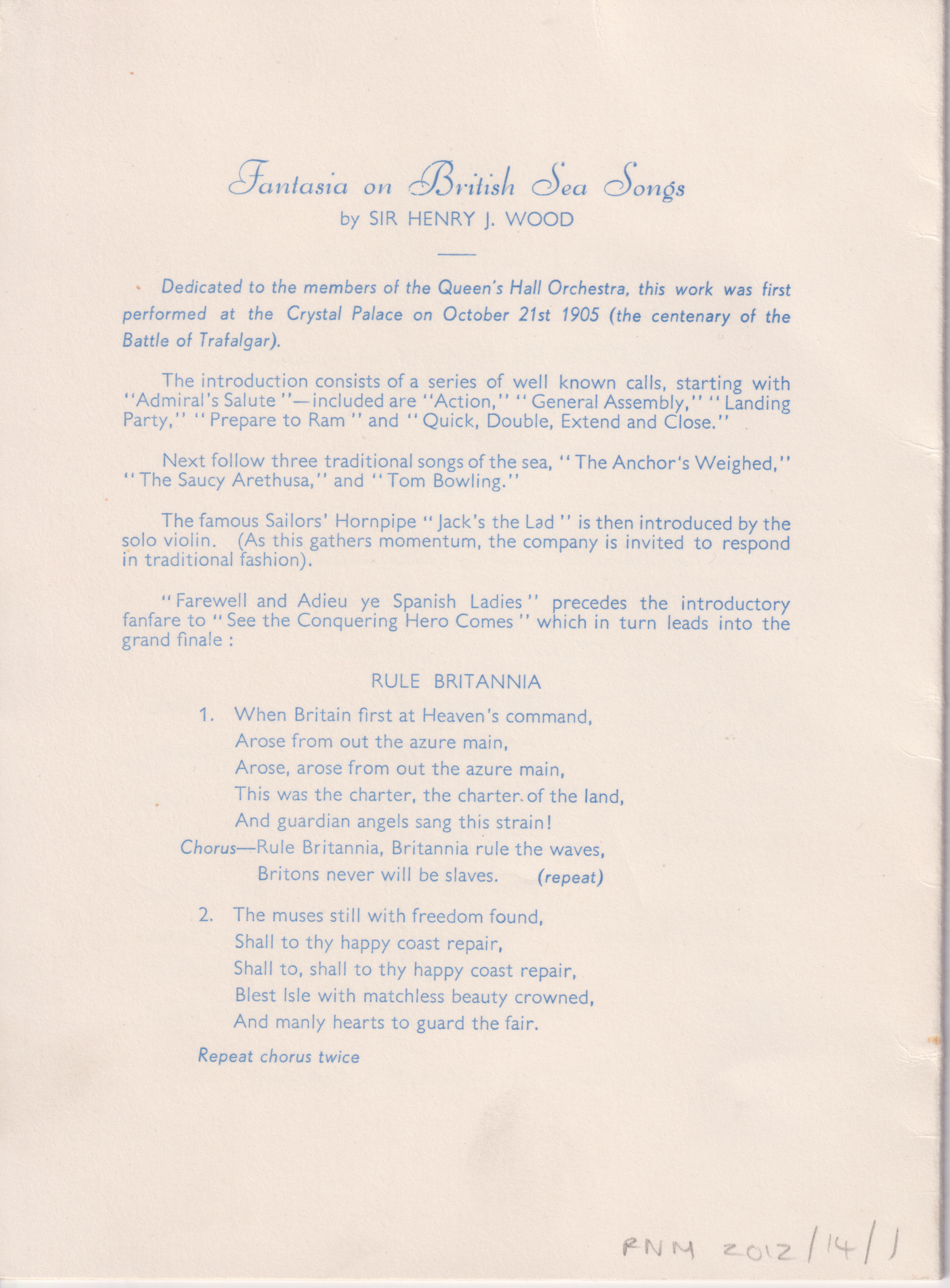 Speaking of the menus, another tradition is that at the end of the night guests will sign each other's menus. These menus are then taken home with them as a memento of the night.
And that is what you can expect to see at a Trafalgar Night Dinner. Perhaps you'd like to have a hand at hosting one yourself (or maybe just enjoy a beef sandwich and a glass of port) this 21 October. Whichever you chose don't forget to raise a glass to the memory of Vice-Admiral Lord Nelson.
If you want to learn more about Vice-Admiral Lord Nelson you can visit the National Museum of the Royal Navy in Portsmouth, home to HMS Victory. Our Ultimate Explorer tickets include entry to HMS Victory and access to the Nelson Gallery, dedicated to his entire life and career. You'll also be able to visit the other incredible ships that made history, from HMS Warrior to HMS Alliance. Each ticket is valid for an entire year, so you can visit as many times as you'd like.  
You can discover more incredible items, such as the menus used in this blog, with our Collections Portal . Simply search for topics that interest you or browse one of our curated digital collections and discover our huge catalogue of naval artefacts and documents.
Interested in more content about Vice-Admiral Lord Nelson then visit "Nelson In His Own Words", a digital exhibition of the letters written by the man himself. Alternatively read about the life of Horatia Nelson, his secret daughter conceived with Emma Hamilton.