The truth behind Napoleon's 'meeting' with the Duke of Wellington
Date published 21/11/2023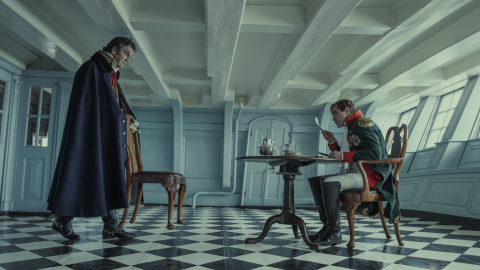 Ridley Scott's latest film, Napoleon, includes a scene that is sure to get a few history buffs talking: Wellington meeting Napoleon onboard HMS Bellerophon. Although this scene is fictitious and no such meeting between the two men ever took place, the setting is based on historical fact.
After his defeat at Waterloo and subsequent abdication, Napoleon made plans to travel to America. Accompanied by a small entourage, he travelled to the port of Rochefort where there were two French ships that might make the journey, if they could get past the British ships in the area. However, with time passing and enemy forces closing the net around him, Napoleon decided to surrender to Captain Frederick Maitland of HMS Bellerophon. 
On 15 July 1815 Napoleon boarded Bellerophon, where he was treated as a respected guest. He was given the Captain's after-cabin, which he quickly established himself in. So much so that he received Admiral Hotham and a small entourage that same day. If Napoleon had met Wellington on the Bellerophon it would have been at around this time, as Wellington was also in France. 
While onboard HMS Bellerophon, Napoleon was quite amiable, dining with his hosts, asking numerous questions to drill down into the minutiae of the workings of a Royal Navy ship and crew, as well as more general questions about British customs. One morning, the Bellerophon's detachment of Royal Marines were drawn up on deck to form a captain's guard, and Napoleon took the time to inspect them, famously commenting with a mixture of admiration and flattery, "How much might be done with a hundred thousand such soldiers as these." A compliment that the Royal Marines have been understandably proud of ever since.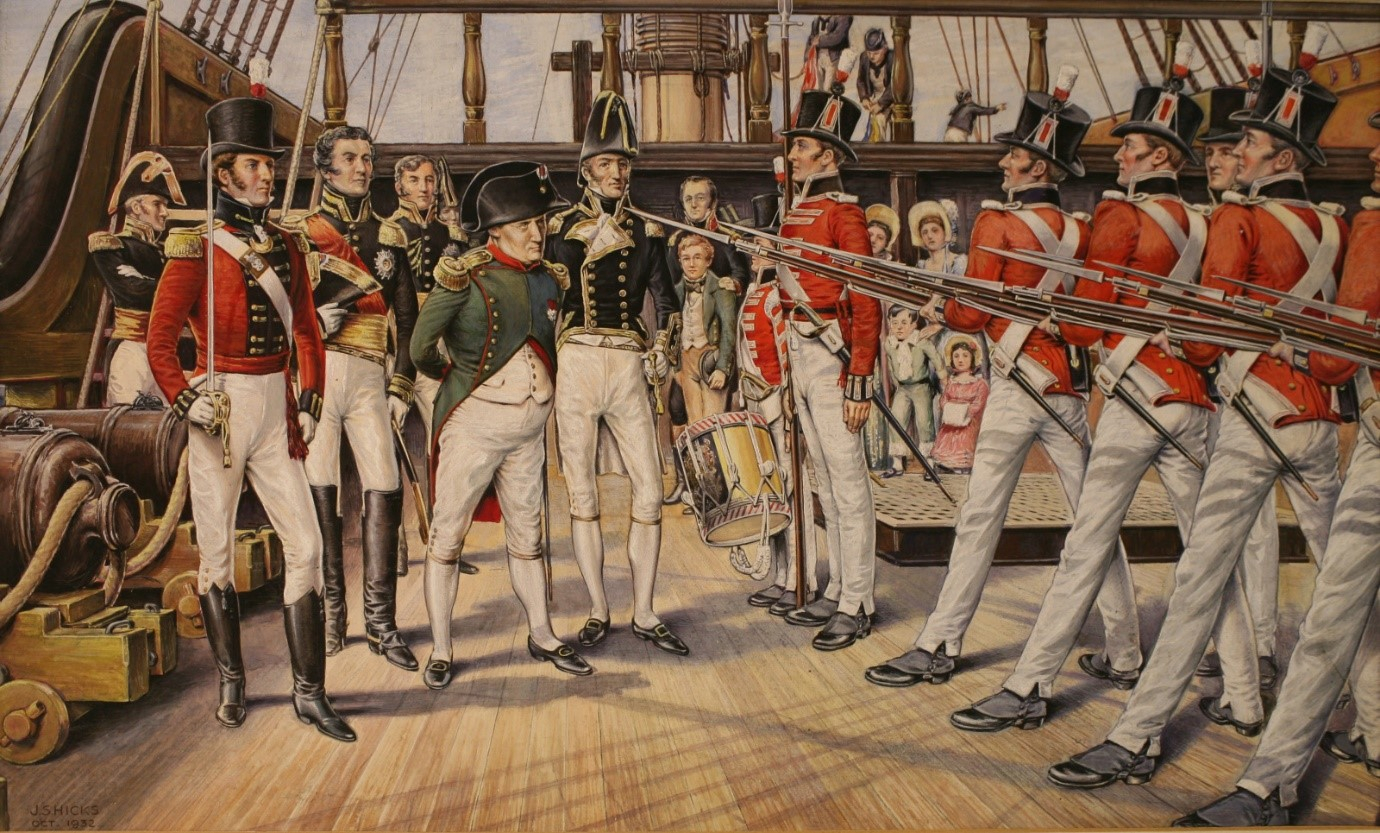 Bellerophon soon sailed back to Torbay on the south coast of England, and once there the news that Napoleon was onboard quickly leaked out. Hundreds of small boats surrounded the ship on a daily basis as people tried to catch a glimpse of the most famous man in the world. To establish a more secure position Bellerophon was moved to Plymouth, although the throng of crowds was just as fierce. It was in Plymouth, on 31 July, that Napoleon received his most distinguished guests; not Wellington, but Admiral Lord Keith (Commander of the Channel Fleet) and Major General Sir Henry Bunbury (Under-Secretary for War) who went onboard to inform Napoleon of the decision to exile him on St. Helena.  
You can see the original figurehead of HMS Bellerophon at the National Museum of the Royal Navy. Housed in our Victory Gallery, you can also learn more about Napoleon's other great adversary Horatio Nelson and the Battle of Trafalgar. Our Ultimate Explorer Ticket also includes entry to HMS Victory, Vice-Admiral Lord Nelson's flagship at the Battle of Trafalgar.  
Learn more about the Battle of Trafalgar and how we celebrate it to this day.