NMRN Hartlepool: The learning and cultural campus of the north
Context
Investment in Hartlepool is coming from the public and private sector to create jobs, develop the workforce and accelerate the quality of life for communities in Hartlepool.
Hartlepool sits in the top 10 of most deprived towns in the UK. These regeneration plans will not only be a boost to the local economy but will help to create new jobs and learning opportunities for the surrounding community.
Earlier in 2022, NMRN and Hartlepool Borough Council (HBC), supported by the Tees Valley Combined Authority (TVCA), embarked on an ambitious project to transform the current site of NMRN Hartlepool, our northern hub.
When complete, we envisage visitor numbers to the cultural and learning campus to increase to 100,000 per annum, from the current 50,000.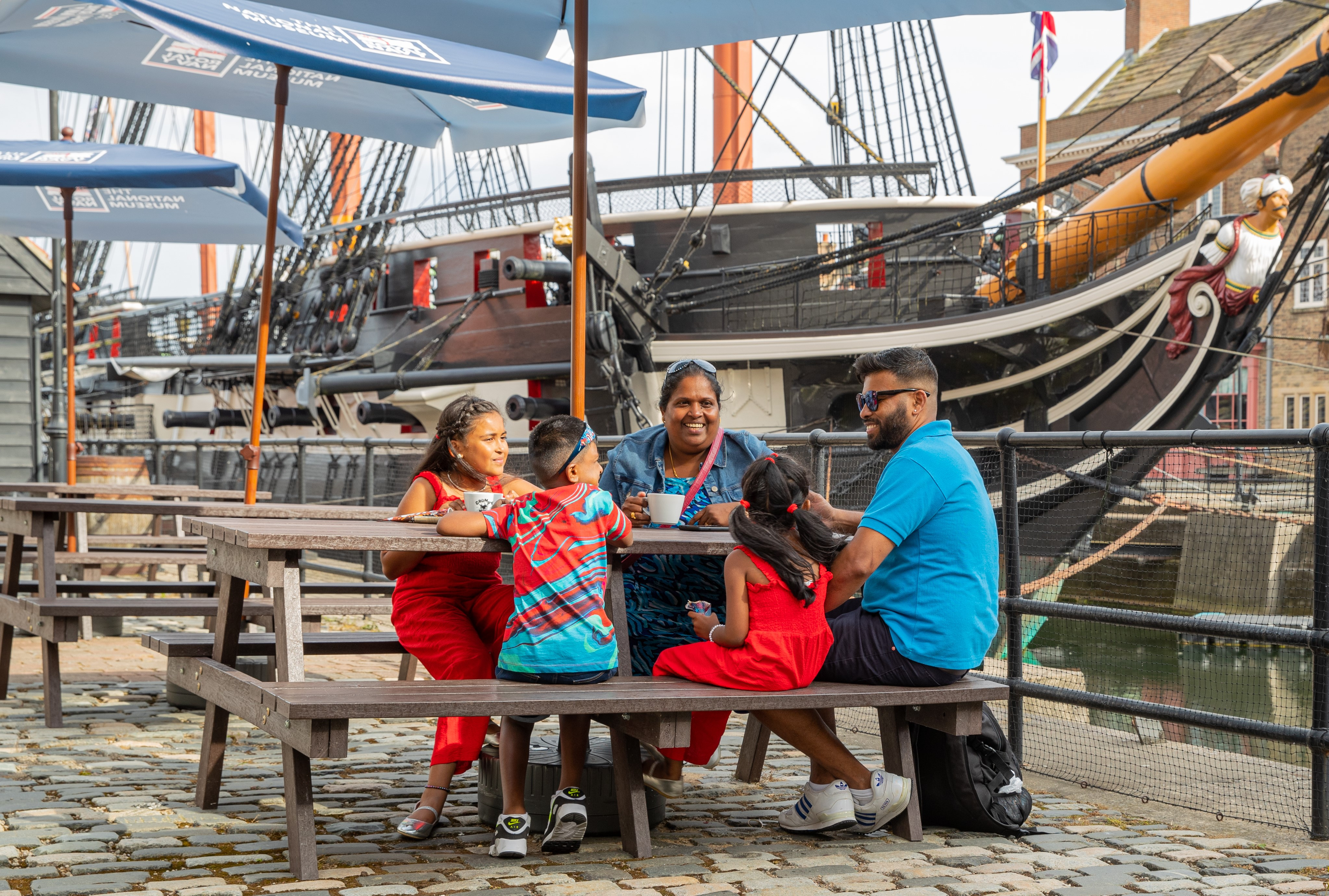 The current site
The National Museum of the Royal Navy has a northern hub in Hartlepool, with the centrepiece of the museum being HMS Trincomalee, a frigate of 1817, built in the Bombay shipyard by Parsee shipwrights. HMS Trincomalee is the last surviving naval vessel built in Bombay, one of three naval vessels from the age of sail to survive in Britain, and one of only six left in the world.
NMRN Hartlepool focuses on the story of the sailing Navy from c. 1750 – 1850.  It is NMRN's ambition to tell a broader story, particularly concentrating on the story of the Royal Navy in the modern age.  
The north east has a rich naval history, designing and building ships, providing bases and facilities for the Royal Navy, playing a major part in, and witnessing, extraordinary actions. The modern Royal Navy recruits half its people from the north of England so the Navy presence is powerful and ongoing, and the Royal Navy engages with almost every community in the north through it's programmes.
Re-imagining the Site
Our plan is to purchase the adjacent Vision Retail Park to provide new galleries to tell this modern navy story. This brings a disused building back into use and allows important objects which are not on display because of their size to be seen by the public. This will include a superb Rescue ship from World War Two, gun turrets from both World Wars, miniature submarines, aeroplanes, and missiles including a Polaris missile.  This will be a major shift to the north for NMRN.
Accompanying this investment in the modern Royal Navy story, existing galleries and exhibitions will be re-worked.  There will be a new Indian Navy gallery, telling the story of the Navy of the East India Company and of the Royal Indian Navy.  A new experience exploring frigate warfare in the age of sail will be created and a new gallery exploring the weapons use in had to hand combat will also be developed. 
TVCA has provided NMRN with £8.5m to begin to realise its vision. More funding is essential to ensure that what is developed and created works to the advance the economic regeneration of Hartlepool and the interest of its community. 
If you would like to help then please get in touch with Lesley-Anne Neville, Project Delivery Manager via email at Lesley-Anne.Neville@NMRN.org.uk