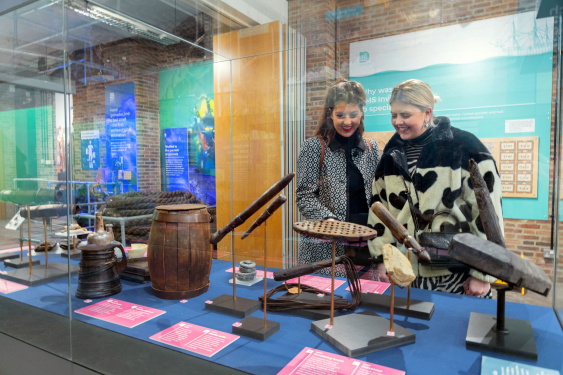 Diving Deep: HMS Invincible 1744
Dive beneath the waves with this ground-breaking exhibition telling the exciting story of HMS Invincible through cutting edge technology and objects that had lain undiscovered for hundreds of years.
Diving Deep: HMS Invincible 1744 explores the fascinating discovery and underwater excavation of HMS Invincible, whose capture revolutionised ship-design for the Royal Navy. This iconic ship sank after just over a decade of service, only to be rediscovered some 200 years later!
This interactive travelling exhibition tells the story of HMS Invincible, as well as showcase the incredible collection of original artefacts that have been retrieved from the dig site. The exhibition uses the latest in digital technology to bring the often unseen and mysterious world of underwater excavation to life, including a 3D reconstruction of the excavation, that you'll experience on a massive three-screen projection.
In addition to these exciting new methods of underwater filming you'll be able to see everything from authentic swivel guns to original wig curlers on display, all in celebration of one of the most important underwater archaeological excavations to have ever taken place in UK waters.     
HMS Invincible - the ship that changed Royal Navy
HMS Invincible a French ship, captured during the 18th century, became the model for many Royal Navy Ships down the line. It influenced the world's most famous and enduring warships, HMS Victory. The 74-gun ship, originally named L'Invincible, was built for the French navy in 1744 and captured by the Royal Navy in 1747. Her design was so important that by 1805, two-thirds of the Royal Navy fleet were modelled on this ship, as were 16 of Vice Admiral Lord Nelson's 27 ships at the Battle of Trafalgar.
She sank in 1758 when she hit a sandbank in the East Solent, the body of water along the Hampshire south coast. She languished there until rediscovered by a local fisherman, Arthur Mack, nearly 200 years later. HMS Invincible was designated a Historic Wreck in 1980, which began a race against tide and times to excavate and recover as much as possible before she was lost forever.
Thanks to the hard work of the team of divers that worked tirelessly to salvage as much as they could HMS Invincible's site is no longer on the Heritage at Risk Register. Her story and her artefacts are now able to be seen together in Diving Deep: HMS Invincible 1744.
Entrance to Diving Deep: HMS Invincible 1744 is included with a valid ticket to the National Museum of the Royal Navy Hartlepool. 
This exhibition was made possible through support from: