Why you should be excited to go on an HMS Caroline guided tour
Date published 20/11/2023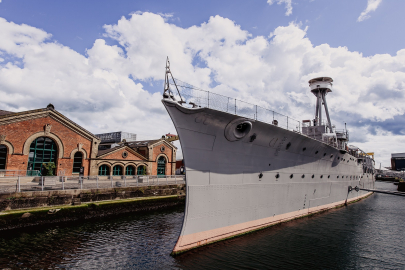 As HMS Caroline prepares to enter an exciting new phase of her life, we ask what makes a heritage experience truly great?
In today's attention-driven world it's natural to make snap judgements. So if you were asked to picture a standard visit to a heritage attraction what would spring to mind? Dusty old stately homes? Fighting through crowds to get a glimpse of the most popular exhibits? Trying to read tiny labels tucked away in cabinets and cases? 
Even if you love all things historical, decision paralysis can make it difficult to choose where to spend your precious free time. With so many options out there how can you know that you're getting the most from your experience?  
With HMS Caroline we turn the expected on its head! Cutting a striking silhouette against the Belfast Harbour, the sole survivor of the Battle of Jutland is a history-defining landmark. But this is something you can see from her pictures. What makes a trip to HMS Caroline go from interesting to unforgettable is the most important part of any heritage attraction – the people excited to share her story with you. 
By introducing guided tours to HMS Caroline we're making access to our experts easier than ever before. Say goodbye to shuffling through hordes of tourists, with group numbers capped at 15 per tour you'll have plenty of room to explore. No more having to Google at home to try and find out more about a favourite item. Our guides will share their knowledge and passion of HMS Caroline with you every step of the way.
Compelling, informative, entertaining, engaging and fun, our guided tours will provide you with your own personally curated adventure. Tread the ship's timeless decks, explore her perfectly preserved living quarters and unbelievable engine room, and place your hands on a history as unique as it is incredible. 
You'll get a fresh look at Caroline's extraordinary exploits, more incredible fun facts, and even more stories. HMS Caroline's new guided tours are peppered with expert personal insights and fascinating deep dives plotting every giant stride of the ship's extraordinary history. 
What's more, HMS Caroline's tours are completely stress-free so you won't ever miss a thing! While there is the option to buy tickets on arrival if there is space available, booking online is incredibly easy. With four tours running throughout the day, simply choose your preferred time and date in advance, and enjoy a fantastic day out. 
It's never been better to visit HMS Caroline and see her incredible story. We've just turned a great experience into a truly exceptional one.  
Tours take place Wednesday to Sunday,  with guided tours at 10am, 11.30am, 1.30pm, and 3pm.