Steam Pinnace 199 shortlisted for prestigious award
Date published 07/07/2015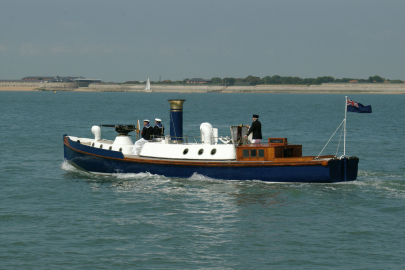 The Institute of Conservation (ICON) Awards team have announced that Steam Pinnace 199 has been shortlisted for the Institution of Mechanical Engineers Award for Volunteering in the Conservation of an Industrial Heritage Artefact.
Built in 1911, 199 is owned by the National Museum of the Royal Navy (Portsmouth) but operated and maintained by museum volunteers known as Group 199. Amongst them are several retired R.N. engineers.
After a year of fundraising, she began a 100-year refit in 2012 aided by a grant of £50,000 from the Heritage Lottery Fund (HLF) and £30,000 from the Friends of the Museum. The group raised a further £30,000 from a huge range of smaller amounts and received a lot of support in materials and services from commercial firms.  The group's balancing contribution to the HLF award was made in volunteer man hours and over three years more than 12,000 volunteer hours was recorded.
Work on the pinnace hull had to be detailed and carefully planned. The three-drum boiler required replacement of over 800 tubes and this has presented a number of serious, delaying problems. The process has been described as wall papering your hall through the letter box because of the very limited access to the tube ends. A traction engine boiler specialist, Mark Filer, was eventually found on the Isle of Wight and the boiler was sent over to him. Over ten months behind the plan, the re-tubed and independently certified boiler was returned to The Maritime Workshop in October 2014. Very sadly Mark died a few months later. His widow described it as his project of a lifetime. The rest of the steam plant has been removed from the vessel, stripped, inspected, defects rectified, recorded and replaced.
Later this year it is intended that 199 will be seen in steam around the Portsmouth/Gosport and Solent area. In the past she has attended events in the Historic Dockyard, the Southampton Boat Show and the Old Gaffers' Festival at Yarmouth, Isle of Wight.
Negotiations are underway for her to have a berth in Portsmouth Historic Dockyard's Boatshed 4 which is currently being redeveloped. This will significantly increase public access to view her.
This year ICON had more entries than ever before and they have only shortlisted the top two entries in this category. The winner will be announced at an awards ceremony to take place on 22 October 2015 at the Institution of Mechanical Engineers in London.