Statement on HMS Prince of Wales and HMS Repulse
Date published 24/05/2023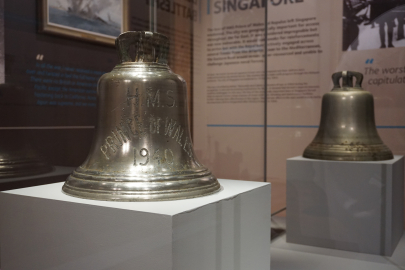 We are distressed and concerned at the apparent vandalism for personal profit of HMS Prince of Wales and HMS Repulse. They are designated war graves.
We are upset at the loss of naval heritage and the impact this has on the understanding of our Royal Navy history. 
What we need is a management strategy for the underwater naval heritage to inform a national approach to the 5000 or so naval wrecks.
 
On 10th December 1941, the Royal Navy ships HMS Prince of Wales and HMS Repulse were attacked and sunk by aircraft of the Imperial Japanese Navy, with the loss of 842 men, in what was one of the worst disasters in British naval history.
  
Their sinking sent shock waves through the country and occurred just days after Pearl Harbour.
The loss shocked the nation and at that time forced the navy to re-evaluate how they had fought for centuries. Now air power was the key to projecting maritime power and today, the Royal Navy's Carrier Strike Group is a legacy of this shift in focus. 
Prime Minister Winston Churchill famously recalled in his post-war memoirs:
 
"In all the war, I never received a more direct shock... As I turned over and twisted in bed the full horror of the news sank in upon me. There were no British or American ships in the Indian Ocean or the Pacific except the American survivors of Pearl Harbour, who were hastening back to California. Across this vast expanse of waters, Japan was supreme, and we everywhere were weak and naked." 

The bells of HMS Prince of Wales (still on display) and HMS Repulse (no longer on display) at the National Museum of the Royal Navy, Portsmouth Historic Dockyard Credit NMRN

Professor Dominic Tweddle, Director General of The National Museum of the Royal Navy said:

"Ours is the leading voice for the heritage of the Royal Navy and core to our mission is to memorialise and remember the role that men and women fulfilled in serving their country.

"We are distressed and concerned at the apparent vandalism for personal profit of HMS Prince of Wales and HMS Repulse. They are designated war graves. We are upset at the loss of naval heritage and the impact this has on the understanding of our Royal Navy history. 

"What we need is a management strategy for the underwater naval heritage so that we can better protect or commemorate these ships.  That may include targeted retrieval of objects.

"We want the Royal Navy to develop a policy we can help deliver.  If resourced correctly, the existing Royal Navy loss list can be enhanced to be a vital tool to begin to understand, research and manage over 5,000 wrecks before they are lost forever. 

"A strategy is vital to determine how to assess and manage these wrecks in the most efficient and effective manner.  Above all, we must remember the crews who served on these lost ships and all too often gave their lives in the service of their country"