As seen on BBC South Today, historic painting unveiled at Portsmouth Historic Dockyard
Date published 20/04/2023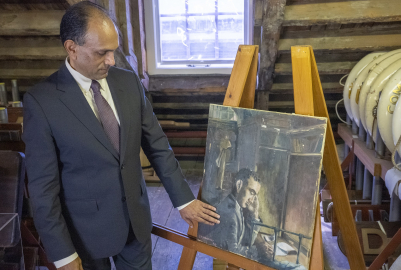 As part of the over two million objects in the collection of the National Museum of the Royal Navy, the painting 'Appreciating the Situation' may seem unassuming, but its link to the long and proud history of Indian men and women in the Royal Navy makes it something special. We have been pleased to be able to share more of this story with the BBC.
Now visitors can get close to the painting, conserved and framed, after it was unveiled by a son of the subject.
Chat Over Chai, a local community group, worked with us, and a member of the Royal Navy's Diversity and Inclusion team to learn more about the mystery behind the painting. 
'Appreciating the Situation' is now on display in the HMS Gallery, a part of your Ultimate Explorer ticket. 
This is part of a project entitled Tidal Teatime, designed to look more closely at the true history, diverse stories and hidden connections behind some of the artefacts in our collection, and has been primarily funded by the Arts and Humanities Research Council through the National Museum of Scotland and Royal Museum's Greenwich.
To learn more about this project please visit the following links:
The Mystery Behind the Painting