Portsmouth Historic Dockyard Launch Discount Scheme for Local Residents
Date published 16/11/2023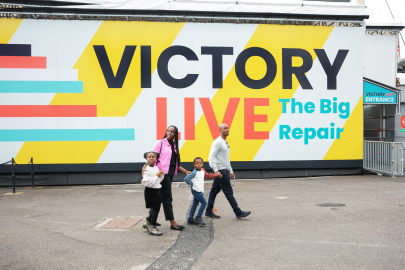 Portsmouth Historic Dockyard launch discount scheme for local residents to enjoy what's on their doorstep 

30%* off the Ultimate Explorer annual pass will give savings year-round and unlimited visits to the region's biggest visitor attraction 

This huge discount is now available to locals with PO and SO postcodes, running through to 11 February 2024
Discounted limitless days out for a year are now possible for residents with Portsmouth and Southampton postcodes as the region's biggest visitor attraction launches a special winter-long offer with up to 30%* savings on an Ultimate Explorer annual ticket. 
The famous historic ships and museums of Portsmouth Historic Dockyard including the Mary Rose, HMS Victory and the Royal Navy Submarine Museum, Gosport are part of a discount scheme for local residents this winter.
Brand new additions to the Historic Dockyard in the last year include the launch of Dive the Mary Rose 4D, an immersive 4D cinema experience where visitors can experience the untold story of the finding, excavation and recovery of Henry VIII's favourite ship. 
Hear the stories of the people who dived on the ship, from the Tudor divers of 1545 to the 20th Century search by Alexander McKee and his team of volunteers. Then enter theour new state-of-the-art 4D theatre, and join the divers as they discover the first timbers, excavate the hull, recover her many thousands of artefacts and return the Mary Rose to the surface for the first time in 437 years, all brought to life with a combination of archive footage and CGI, as well as multi-sensory features including sounds, smells, bubbles, wind and movement. 
This year also saw the launch of Worlds Beneath the Waves; an exhibition which delves into the extraordinary tale of the HMS Challenger Expedition 150 years ago. Launched in partnership by the National Museum of the Royal Navy and the National Oceanography Centre, visitors can experience a journey back in time, learning how the Challenger Expedition forever altered our understanding of the Earth's ocean. Plus, how the Royal Navy is still at the forefront of scientific discovery, collecting research which helps us understand our changing ocean - on which human wellbeing depends. 
The Worlds Beneath the Waves exhibition features the voices of the men and women at the forefront of marine biology and provides opportunities to explore scientific ideas through interactive exhibits, getting up close and personal with the famous Boaty McBoatface and the chance to create your own AI-generated sea creature. With the our local discount, residents from PO and SO postcodes can get 30% discount on their Ultimate Explorer tickets. This means a family of 5 can enjoy a year's worth of adventures for under £100. Tickets can be brought on the day or booked online in advance. This is a limited time offer available from 1 November 2023 to 11 February 2024. 
Joint statement from the operators of Portsmouth Historic Dockyard Operations Ltd Dominic Jones, The Mary Rose, and Matthew Sheldon, the National Museum of the Royal Navy said: 
"We are encouraging all local residents to discover unexpected experiences right on their doorstep. Visit with friends and family and see what makes Portsmouth Historic Dockyard one of the must-see destinations in the country, if not the world. Our Ultimate Explorer tickets are fantastic value for money. You'll get unlimited visits to Portsmouth Historic Dockyard's nine historic attractions for a full year. This includes the iconic HMS Warrior, Henry VIII's favourite warship the Mary Rose and the nation's flagship, HMS Victory."
 For more details, and terms and conditions, visit www.historicdockyard.co.uk/local-discount