Operation Frankton: The story of the Cockleshell Heroes
Date published 16/11/2022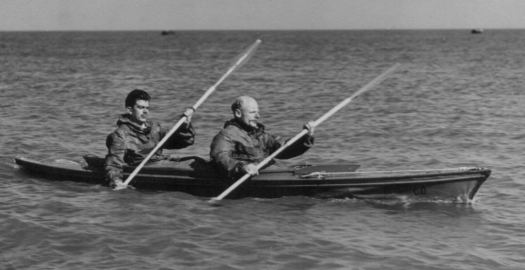 This year marks the 80th anniversary of the daring Operation Frankton, undertaken between 7 and 12 December 1942. 
As part of its commemoration Portsmouth Historic Dockyard is welcoming two special events, but what exactly was Operation Frankton? Who is its central figure, "Blondie" Hasler? And why are they known as the Cockleshell Heroes? 
Herbert "Blondie" Hasler 
Herbert "Blondie" Hasler DSO, OBE, was born in Dublin in 1914, the son of an Army Lieutenant. 
Even as a young boy Hasler was a very keen sailor, building his first canoe as a child following instructions from an issue of "The Boy's Own Paper". This hobby would go on to play a key part in Operation Frankton. 
Nor would Hasler's heroism leading Operation Frankton have been a surprise to many, as he had previously been awarded an OBE and mentioned in dispatches during his service in Norway in 1940.  
His love of boating, especially in kayaks and canoes, led Hasler to present an idea to the Admiralty, to use collapsible canoes to attack enemy ships while they were still in the harbour. The idea was that they could attack silently, with time-detonated mines, and not draw the same attention a ship would. If this idea sounds fantastical, the Admiralty agreed, and it was turned down. 
That was until one day the Combined Operations Headquarters took notice, spurred on by similar successful enemy attacks in harbours using small vessels, including the Italian Raid on Alexandria in 1941. Hasler got to work, with his brand-new unit titled "The Royal Marines Boom Patrol Detachment". This team was based at Southsea, and as the name suggested they patrolled Portsmouth Harbour's boom, the barrier that controlled entrance to the harbour. 
The story of "Blondie" Hasler and Operation Frankton was later turned into a film, 1955's The Cockleshell Heroes, with the title originating from the nickname given to the kayaks used, cockles.  
Operation Frankton 
Bordeaux was a key port for German trade to the Far East, so was an important target for the Allies. But the Allied forces had a problem, as Bordeaux was heavily defended, which meant a traditional attack by air, sea or land would result in heavy losses. This was the perfect opportunity for Hasler to test his idea. 
On 7 December 1942 six kayaks and the 13 men planned for the raid arrived in France, being taken by the submarine HMS Tuna. The kayaks had the codenames of various sea creatures; Catfish, Crayfish, Cachalot, Conger, Cuttlefish, and Coalfish. 
Paddling nearly 70 miles over five days, only two kayaks made it all the way to the port of Bordeaux on the night of 11 December 1941, Hasler and Marine Bill Sparks in the kayak codenamed Catfish, and Corporal Albert Laver and Marine William Mills in the kayak codenamed Crayfish. The other four kayaks had failed to make it this far; Cachalot was damaged before she could be launched, Conger capsized and the men died of hypothermia, while Cuttlefish and Coalfish were captured after coming ashore. 
While Hasler and Sparks narrowly avoided an enemy sentry, the two kayaks managed to damage six enemy ships, marking a blow against German shipping. After coming ashore both crews sank their kayaks to hide evidence and fled for the Spanish border. Hasler and Sparks managed to flee to Spain and make it back to Great Britain but the crew of Crayfish were unfortunately captured.  
Hitler's 'Commando Order' meant that all men captured from Operation Frankton were executed without trial. 
Some of Hasler's personal effects from the mission have survived, including his goggles and boots, which is significant considering the lack of equipment and destruction of their kayaks. These items are proudly held by the National Museum of the Royal Navy.  
Operation Frankton demonstrated that no German installation was safe from attack and provided a significant morale boost to a beleaguered British population, with the sacrifices of the 'Cockleshell heroes' honoured to this day.