HMS Caroline is awarded 'Flagship of the Year 2023' status
Date published 13/06/2023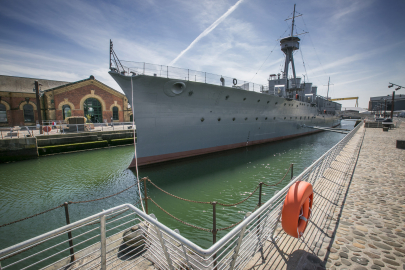 National Historic Ships UK (NHS-UK) has made HMS Caroline a Flagship of the Year for 2023.
Belfast's First World War ship receives the coveted award "in recognition of her planned public engagement into 2024 as well as the level of social media output and learning resources for schools." 
Operated by the National Museum of the Royal Navy, HMS Caroline will fly the flag as an ambassador for the UK's maritime heritage and will receive a special broad pennant and a brass plaque to denote her coveted status.  
Berthed in Belfast's Titanic Quarter, HMS Caroline is woven into the fabric of Belfast's maritime history and celebrates her Belfast centenary in February 2024. The 1916 Battle of Jutland sole survivor went on to serve as the Royal Navy's headquarters in the city during the Second World War and as a Cold-War era minesweeping school.  
Now fully restored to its original 1914 condition as a floating museum, HMS Caroline combines striking antiquity and authenticity with compelling interpretation to offer a unique and a unique and unrivalled visitor experience. The ship reopened in April this year following three years of closure, enjoying record visitor numbers.  
HMS Caroline continued in Royal Navy service until finally being decommissioned in 2011, making her the navy's longest-serving warship after HMS Victory.   
National Historic Ships UK's annual Flagship Awards have been running since 2009. The Awards provide an opportunity to demonstrate and celebrate the value of historic vessels to the wider public through online activities, special events, open days, workshops and tours.  
HMS Caroline Business Development Manager, Kerry Rooney, said:
"We're delighted that HMS Caroline - one of Northern Ireland's most unique and historically important visitor attractions - has been awarded National Historic Ships UK Flagship of the Year status. HMS Caroline truly is one-of-a-kind, witnessing and surviving generations of monumental change during her 100 years here in Belfast. This award recognises her longstanding connection with, and continuing importance to, local people. It acknowledges how we, as Caroline's custodians, plan to ensure both her legacy and those connections continue to flourish for another 100 years."