Falklands 40: Talk Recounts Key Role of Falkland Helicopter Crew 40 Years to the Day
Date published 20/04/2022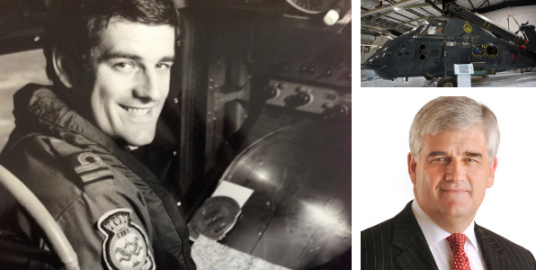 Fascinating talk vividly recounts key role of Falkland helicopter crew in opening days of conflict 40 years to the day
The powerful recollections of a helicopter crew involved in the opening actions of the Falklands Conflict 40 years ago is the subject of a very special talk on Friday 22nd April at Yeovilton's Fleet Air Arm Museum at 5.30pm. 
On the 40th anniversary to the day in 1982 of their operations in South Georgia in the South Atlantic, Commander Ian Stanley DSO, Rear-Admiral Dr Chris Parry CBE PhD and Lt Stewart Cooper will vividly recall their experiences in the opening days of the war, an intensely fought, 11-week conflict in which 255 British personnel were killed and 777 wounded, 649 Argentinian personnel were killed and three Falkland Islanders.
As the crew of the redoubtable antisubmarine Wessex HAS.3 (XP142) helicopter affectionately known as Humphrey, the trio expertly navigated the inhospitable Fortuna Glacier in 70 knot winds and – 30 degree temperatures, to rescue 16 SAS troopers and the crew of two previous rescue helicopters that had crashed in a helicopter designed to take just a handful of passengers. 
The trio's detection and disabling of the Argentinian submarine Santa Fe was the first ever anti-submarine operation successfully conducted exclusively by helicopters.
By 20th May HMS Antrim and her Wessex helicopter deployed Special Forces at Fanning Head to start the landing operations to retake the Falklands Islands. 
'Humphrey' has been re-displayed as part of the Museum's tribute and commemorations for the 40th anniversary of the Falkland Conflict, and can be seen in Hall One as part of the evening.
There will also be the chance to purchase Chris Parry's 'Down South – a Falklands War Diary'.
Tickets
Tickets for the talk cost £15 and this event is ticketed separately to the museum. Tickets must be bought in advance and can be purchased at Fleet Air Arm Museum.
Book at ticket to the talk
The event take place under the museum's Concorde and includes a complimentary refreshment.
Ticket information is available by telephoning 01935 840565 or by emailing fleetairarm.enquiries@nmrn.org.uk.