Falklands 40: The impact
Date published 04/04/2022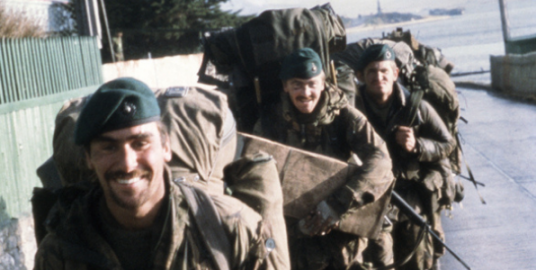 Often with historic events it's hard to understand the impact when you're looking back and might not have experienced the conflict firsthand.
In this blog we take a look at the numbers behind the Falklands, the hard data and facts to show an insight on the scale of the conflict.
While some facts were easy to find, our research clearly highlighted how much harder it was to find the figures required for a balanced article, representing both sides equally.
This happens very frequently in history, sometimes there are inaccurate, partial or biased records, or at worse, little to no records at all.
As a National Museum this conveys just how important recording stories and artefacts is. One day in the future, there might be someone dependent on what we've curated for insight into the past.
Let's take a look at some of the numbers and impact of the Falklands conflict…
Conflict Duration
Active conflict in the Falklands lasted for a total of 74 days, from 2 April to 14 June 1982.
Conditions
Conditions changed as the conflict progressed. While June is summer in the UK, for those in the Falklands, the seasons were changing from Autumn to more winter conditions.
The average temperature in the Falklands is 1-5 degrees in June, and July is the coldest month.
This is an important fact to consider when you think the UK Marines had to yomp (march) over 50 miles across the islands.
Location
Distance from UK to Falkland Islands: 8,000 miles.
Distance from Argentina to Falkland Islands: 945 miles.
Personnel
These details are particularly difficult to accurately find for both sides.
While it's widely reported that 9,000 British personnel were involved, sources like the British Legion report 30,000.
In addition to the three main British services, the army, air force and navy, personnel joined the conflict from the Gurkhas, the Parachute Regiments, Scots Guards, Welsh Guards and many others.
It is known that nearly 12,000 Argentinians were captured as Prisoners Of War. But, further numbers of their wider troops and military support is a lot harder to locate.
According to NavalHistory.net, there were 30,000 Argentinian naval personnel involved.
Equipment
While the Argentinians could return relatively easily to resupply from the mainland, it was a different story for the British.
As a result, the British had to take what they could with them, which totaled 5,000 tonnes of equipment.
Fleets and Aircrafts
In total there were 127 British ships involved, including the merchant ships that were repurposed for the conflict. And, an additional 70 aircraft.
According to NavalHistory.net, in total there were 25 Argentinian ships involved.
Sunk and Damaged
British:
2 destroyers (HMS Sheffield & HMS Coventry)
2 frigates (HMS Ardent & HMS Antelope)
1 landing ship (RFA Sir Galahad)
1 landing craft (LCU F4)
1 container ship (SS Atlantic Conveyor)
24 helicopters
10 fighter jets
Argentinian:
1 cruiser (ARA General Belgrano)
1 submarine (ARA Santa Fe)
4 cargo vessels
2 patrol vessels
1 spy trawler (Narwal)
Deaths and Injuries
British:
255 British lives lost (130 of them were naval personnel)
777 wounded
Argentinian:
649 killed
1,657 wounded
11,313 captured as Prisoners Of War
Falkland Islander deaths: 3
Legacy
The Falklands conflict had a much wider impact, that reached beyond the island's sovereignty. 
Technology and Medicine
The UK had enjoyed many years of peace since the Second World War and the Falklands challenged the military's resources at the time.
It highlighted the need for a review and evolutions of strategy, equipment and medical changes.
Post-Traumatic Stress Disorder (PTSD)
The Falklands was one of the first times PTSD began to be formally recognised. Initially only 16 psychiatric cases were diagnosed with battle shock straight after the conflict.
But, subsequently many people have come forward and have been diagnosed with PTSD.
Many have still not come forward, making it very difficult to quantify the number of people effected.
Politics
On the 15 June 1982, the day after the conflict ended riots erupted across Argentina. Shortly after this, the Argentinian Military Junta was overthrown and many of its leaders brought to trial for human rights issues within the country during their time in power.
The conflict contributed to Margaret Thatcher's successful election for a second term.