Compelling historic collection returned to Belfast-based warship In time for public reopening
Date published 13/02/2023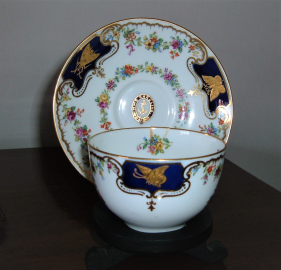 One of Northern Ireland's most treasured historic collections is being returned to HMS Caroline, the fully restored First World War warship berthed in the heart of the city's Titanic Quarter for almost 100 years, in time for her public reopening. HMS Caroline is the last surviving ship from 1916's Battle of Jutland - one of the largest and most historically important battles in naval history.
Following a three-year closure, HMS Caroline fully reopens to the public from Saturday 1st April while some lucky visitors will get an early chance to tour the ship on Saturdays and Sundays throughout March. 
HMS Caroline is owned and operated by the National Museum of the Royal Navy (NMRN). Curators from the NMRN have flown into Belfast to oversee the safe return and installation of HMS Caroline's collections which include historic photographs, period ship furnishings, equipment & tools and personal possessions owned by the ship's captains, officers and crew. 
This historic collection will hugely enrich the HMS Caroline experience for visitors, giving them an authentic and compelling insight into what life was like on board this fully restored warship. 
Examples of items in HMS Caroline's extensive collection include: 
Two ship's bells
A First World War naval telescope 
A silver plated cigarette box commemorating the building of HMS Caroline in 1914 
A halfpenny coin commemorating the year that HMS Caroline fought in the Battle of Jutland
A tea set used by HMS Caroline's first Captain, Captain Crooke
A silver whistle, shaving kit and cigarette case belonging to a First World War HMS Caroline admiral 
The historic significance of HMS Caroline ship's bells 
Ships' bells have always been deeply significant to sailors in marking time, providing danger warnings and representing a symbol of pride for crews.
One of HMS Caroline's ship's bells dates from the 1920s. The other, a christening bell, is an intriguing example of a longstanding naval tradition of inscribing the names of those who were christened on board the ship.
Head of Conservation at the National Museum of the Royal Navy is Diana Davis. Originally from Belfast and a Queen's University Archaeology & Paleoecology graduate, Diana has been overseeing the preparation works to the ship and is delighted to be back in the city to help supervise the return of HMS Caroline's collection to Belfast: 
"The National Museum of the Royal Navy Conservation & Collections team are now unpacking the coveted HMS Caroline collection before returning it to the exhibition area in the Pump House alongside the dock in time for the reopening. Extreme care is needed when handling and preparing these unique historic items for display and we're indebted to our team of dedicated local volunteers who are facilitating this crucial work."
Visitors to HMS Caroline will journey back 100 years where they will:  
Experience what life was like at sea during the First World War
Explore where the crew lived and slept, hear their stories and find out about the incredible mascots that lived alongside them
Learn to crack codes, launch torpedoes and signal ships through interactive displays 
Tickets for HMS Caroline self-guided tours can be booked now at www.hmscaroline.co.uk