22 Years of Progress for The Royal Navy LGBTQ+ Community... And Counting!
Date published 04/03/2022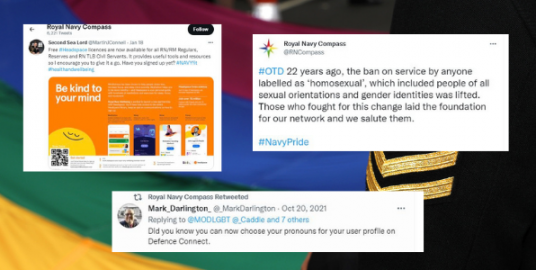 Reflecting on the developments of the past 22 years, Royal Naval personnel today are happy and proud to serve their country, under an organisation that values them exactly as they are. Though there is still work to be done, work to actively break down barriers is tireless.
Here we share some Tweets, comments and events that celebrate the diversity of the Royal Navy.
1. On this day post shared by @RNCompass Twitter account
Compass (the sexual orientation and gender identity network for the Royal Navy) is highly active on Twitter, sharing anniversaries, promoting queer and trans voices, and celebrating moments of success.

2. Commander Woods on Pride, fighting with Pride, LGBTQ+ History Month 2021
Ten years after fighting to save his career after rumours of his sexuality spread, Commander Roly Woods proudly led the first ever military contingent to march in a UK Pride event in uniform, at London Pride in 2006.

3. From PinkNews 'this is what it's like to be out in the Royal Navy'
Petty Officer Technician Engineer Samantha Kimberley-Hauff says that she had her wife – a naval reservist – are fully embraced and treated with respect. Each ship and submarine have Equality and Diversity advisors who Kimberley-Hauff credits with making a tangible difference to serving LGBTQ+ personnel.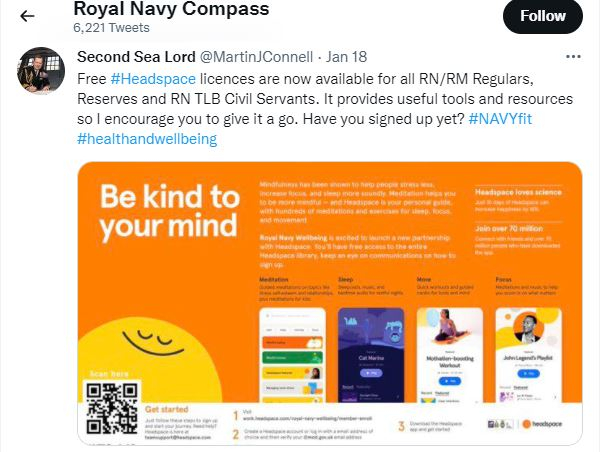 4. Compass share Headspace licences to promote mental health
As free licences became available to naval personnel for mental health app, Headspace, Compass were quick to assist the promotion. This is especially important since a recent study by Stonewall revealed that half of LGBTQ+ people had experienced depression, and 3 in 5 had experienced anxiety.

5. Reflecting on being 'out' in the Royal Navy, Compass on Twitter
Compass share Mikaela Rees-Swindon MCIPD's tweet on the day she came 'out' to her Chief and was able to live life as she wanted to.

6. Changing pronounce on Defence Connect
Users of Defence Connect are now able to update their pronouns, enabling them to live authentically while also informing colleagues of what they prefer to use.
Pronouns used to be limited to "he/him/his" and "she/her/hers", and now include, but are not limited to, "they/them/theirs", "xe/xim, xyr, xyrs, xemself", "ze/zie, hir, hirs, hirself".
It is not uncommon to see cis-gendered people sharing their pronouns in solidarity with the queer community, offering a safe space for everyone to share their pronouns.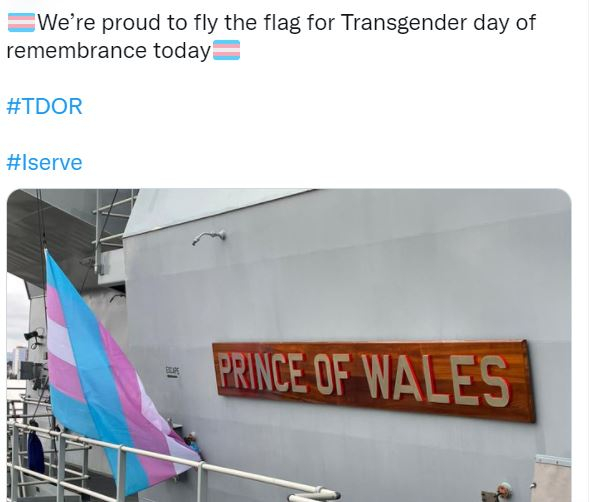 7. The trans flag flies HMS Prince of Wales
HMS Prince of Wales – one of the most powerful surface warships ever constructed in the UK – flies the trans flag for Trans Day of Remembrance (November 20 2021). It is an annual day used to commemorate the lost lives of trans people killed because of their identity, and to raise awareness of violence towards the trans community. 
Resources: