SoFFAAM talk - Nicci Pugh – White Ship – Red Crosses. A British Hospital Ship at War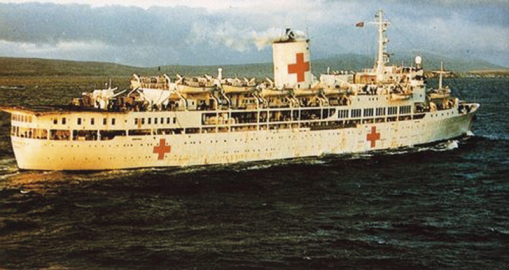 This inspiring, informative and fascinating presentation illustrates the role of a floating hospital ship working 8,000 miles from home in the South Atlantic Ocean during The Falklands War fought between Britain and Argentina in 1982.
Presenter Nicci Pugh served throughout the conflict as a Trauma Operating Theatre Sister in Queen Alexandra's Royal Naval Nursing Service on board Her Majesty's Hospital Ship Uganda and relays this little-known history in a sensitive and thoughtful delivery. Nicci covers all aspects of life on board a busy military floating hospital, including helicopter evacuation of casualties from the battlefields ashore and at sea, to the repatriation of recovering patients to UK by sea and air.
The talk completes with up-to-date images of The Falkland Islands today. Signed copies of Nicci Pugh's White Ship – Red Crosses  A Nursing Memoir of The Falklands War will be available to purchase on the night. Any profits from book sales are donated to the tri-service association for veterans of The Falklands War, The South Atlantic Medal Association www.sama82.org.uk
Tickets available to buy at the end of March 2023.
For more information and to book, please visit the SOFFAAM website.
Please note that the Museum does not administrate bookings for SOFFAAM talk evenings.