Matchstick Fleet by Phillip Warren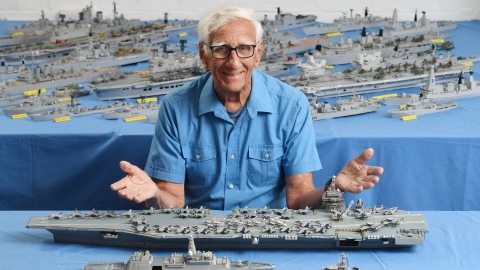 This exhibition of Matchstick Scale Model Ships is the culmination of a lifetimes work by Phillip Warren. This exhibition will include many of the iconic aircraft carriers used by the royal Navy from all Eras
In June 1948 Philip Warren began to build the model warships that became the matchstick fleet. He had built some model aircraft using balsa-wood and tissue paper, some were gliders and some aircraft powered by rubber bands.
These materials were not suitable for a static waterline warship model, the balsa-wood frame was replaced by matchsticks and the tissue paper by the flat thin strong wood of the Matchbox. The first model was the Royal Navy's then newest destroyer HMS Scorpion.
This was then followed by another destroyer, a cruiser, a battleship and eventually an aircraft carrier. The models improved in accuracy and detail over the years with many moving parts, gun turrets, radars, missile launchers, helicopter rotors and swing wings all using matchstick spindles and hinges.
No other materials are ever used in the construction and all the models are painted by hand.
The collection of 525 ships and 1000 aircraft includes ships of the Royal Navy, United States Navy and many other nations, illustrating the development of warships from the end of World War II right up to the present day.
Dates and times:
The Scale Model matchstick fleet will be running from 21st - 23rd October from 10am until 3pm.
Tickets:
The exhibition is free with a valid museum ticket.
We advise to book museum tickets in advance.
Further Details:
For more information, please email fleetairarm.enquiries@nmrn.org.uk or telephone 01935 840565.