Conservation in Action - Behind the Scenes tours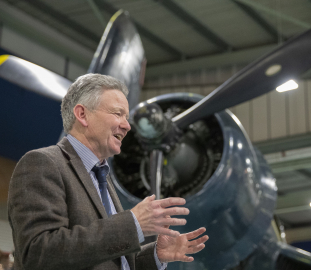 Have you ever wondered how they carry out the conservation and restoration work on the aircraft in at the Fleet Air Arm Museum? Why not book a behind the scenes 'Conservation in Action' tour with the Museum's Senior Conservator of Naval Aircraft David Morris.
Each tour will last approx. 2 hours and start with a presentation where you will get an understanding of the thinking and decision making behind the conservation projects.
You will then tour through the exhibition halls examining in detail aircraft such as the WW2 fighter aircraft Corsair KD431. The Corsair has been the subject of a paint archaeology program to remove paint from the 1960s and reveal the totally original wartime paint beneath.
Then finish with a look at work in progress on the unique rebuild of Fairey Barracuda DP872.
With over 40 years' experience in the field David will give visitors on the tour a very detailed and informative insight into all aspects of the Museum's Restoration and Conservation work at the Fleet Air Arm Museum.

Tours are strictly pre-booked only and limited to 10 people maximum per tour. Museum Access is included on the day of your visit.
Date and Time:
Thursday 7th September 2023
Tour 1: 10:30am - 12:30pm
Tour 2: 2pm - 4pm
Tickets:
Conservation in Action tickets are £30 per person and must be booked in advance. 
Ticket covers 1 tour during the day.
Tour time must be selected during the booking.
Further Details:
For more information, please email fleetairarm.enquiries@nmrn.org.uk or telephone 01935 840565