Wrens United as new exhibition launces at the Fleet Air Arm Museum
Date published 01/10/2019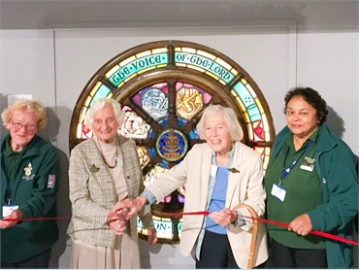 The recent launch of new exhibition at the Fleet Air Arm Museum in Somerset saw veterans from the Women's Royal Naval Service (WRNS) gather alongside invited guests to celebrate the work of women in the Royal Navy over more than 250 years – and included a surprise reunion of two veterans after almost 80 years.
Mary Owens and Eve Warton, both WRNS veterans of the Second World War, were guests of honour at the formal opening of "Pioneers to Professionals: Women and the Royal Navy", a new permanent exhibition at the Fleet Air Arm Museum tracing the evolving role of women in the Royal Navy. The two ladies, both in their nineties and living in Somerset and Wiltshire respectively, were surprised to find while reminiscing about their wartime experiences that they had served together at RNAS Machrihanish in Scotland in the 1940s.
Following an opening address by Professor Dominic Tweddle director general of The National Museum of the Royal Navy and introduction by Matthew Sheldon, director of heritage, the two ladies cut the ceremonial ribbon to launch the exhibition, alongside representatives from the Association of WRNS Yeovil, Taunton and Dorset branches.
Beginning with the brave pioneers of the mid-17th century, "Pioneers to Professionals" reveals remarkable stories of naval women through the years including the inception of the WRNS in the First World War and highlights their vital contributions to all areas of naval operations and breadth of involvement today.
Speaking after the launch, Professor Tweddle said: "This exhibition was first opened at our site in Portsmouth Historic Dockyard to mark the centenary of the WRNS and so it's fitting that it has been reconfigured to uncover the often unknown but vital contribution of women to the Fleet Air Arm.  Highly professional women have served in the Royal Navy since 1917 and this exhibition celebrates their achievements across an extraordinary range of activities, from pilots to seamstresses. It was the Second World War that revolutionised attitudes towards what women could and were able to do – thank heavens we haven't gone back!"
Following the opening ceremony, guests enjoyed a tour of the exhibition, which includes artefacts and photographs from the early years of the WRNS to the present day. There are log-books, drawings and images showing the trailblazers of the early 20th century; testaments to the mechanics, code-breakers and dispatch riders of the Second World War; and a huge collage of images showing the variety of roles undertaken by women in the modern Royal Navy.