Tidal Teatime Exchange Project brings artefacts' history to life
Date published 01/08/2022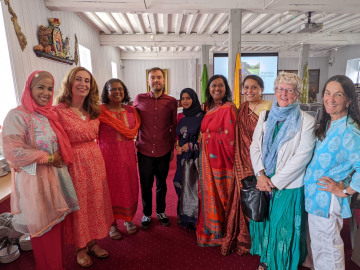 Re-discovering hidden connections 
Recently the National Museum of the Royal Navy has worked with community group Chat Over Chai and the Royal Navy's Equality and Diversity Team.
The aim has been to look more closely at the true history, diverse stories and hidden connections behind some of the artefacts in its collection. 
"Every object tells a story", writes Jo Valentine, community producer for The National Museum of the Royal Navy, "and museums use these objects to tell a wider story and share this with the public. But what if the original story is not the whole story? How do you unlock the true story of an object?" 
One of the steps is to work directly with community groups who are able to enrich our stories with their cultural knowledge and expertise.  
A celebration of South Asian Heritage
During South Asian Heritage Month which runs during July and August 2022, Chat over Chai and the Royal Navy's Equality and Diversity Team hosted a gallery Hackathon and film premiere celebration event in Portsmouth to mark the end of the Tidal Teatime Exchange project.  
Tidal Teatime Exchange Project 
This project has been funded by the Arts and Humanities Research Council through the National Museum of Scotland and Royal Museum's Greenwich to explore community led participatory research. 
Connections to India 
Both of the two communities came behind the scenes, saw the work of curators and conservators and explored the galleries to pick three key objects to focus their research on. They were; a ship, a painting and a poster each with connections, some not so obvious, to India.  
From research to resources 
Working with film maker David Graham, they structured, filmed and edited three films about the objects they researched. These films will be displayed in our galleries in Portsmouth and Hartlepool as well as being turned into school teaching resources.  
What next? 
The project has been extremely rewarding for all involved and deepened our understanding of the collections and our relationships with our communities.  
New information about our collections has come to light and we will be displaying a painting, Appreciating the Situation, that was previously hidden in our stores. We now know so much more about this painting, including tracing the sitter and his family.  
The painting will go on display and we will be able to continue with the painting's conservation ensuring it's catalogued correctly with the additional information uncovered. 
Sandra, the Chair of Chat Over Chai said "It's been a good opportunity for learning in participatory research. We look forward to our continued working relationship." 
By working together, sharing our unique knowledge and experiences museums and communities can get to uncover the full story of an object and ensure that the whole story is being told." 
Videos of the Tidal Teatime Exchange