Operation Mincemeat: The Jolly Roger of HMS Seraph
Date published 14/04/2022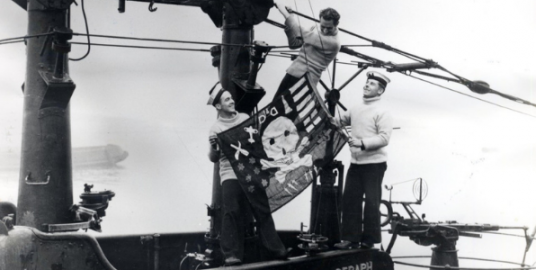 The Jolly Roger of HMS Seraph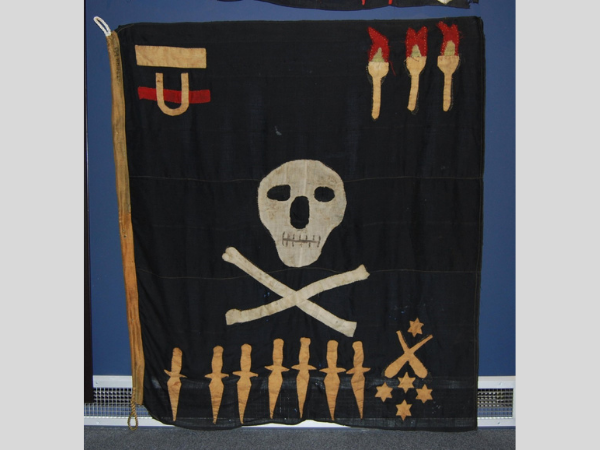 HMS Seraph's Jolly Roger on display at the Royal Navy Submarine Museum – Credit: The National Museum of the Royal Navy
Flying the Jolly Roger Flag when coming into harbour was a long-standing tradition for British submarines in the Second World War.
First instituted in the First World War, each flag told of the submarine's operations and sinkings.
Operation Mincemeat, the story now being told again in 2022 on the big screen featuring Colin Firth, is listed on the Jolly Roger flag, but in the submarine's special code.
Each dagger on the flag represents a 'cloak and dagger', i.e. a 'secret' operation, and it is not the only secret operation represented here. 
The secret operations
The other operations that the daggers represent are:
Beach reconnaissance by periscope prior to North Africa landings; October 1942
Operation Flagpole; October 1942 
Operation Kingpin; October/November 1942
Operation Peashooter; December 1942
Operation Mincemeat; April 1943
Operation Husky; July 1943
Operation Burrow (Special Operations in Corsica); August 1943
For more details about the operations check out the first HMS Seraph blog about it's key operations.
Other symbols
The red bar with a U in the centre represents the ramming and damaging of a U boat by Seraph in December 1942.
The white bar denotes a sinking of a merchant ship (as opposed to a red bar which was the sinking of an enemy warship and features on other Jolly Roger flags). 
The torches represent the submarine acting as a beacon or guide ship. 
The crossed gun barrels represented an action with the submarine's gun, and each star is a small vessel sunk in this manner.
Rather than waste torpedoes which could not be replaced until they reached a shore base, smaller vessels would be targeted with the gun instead.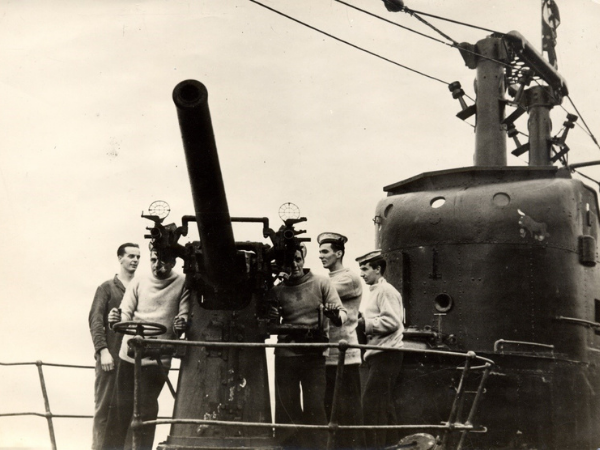 HMS Seraph's gun crew – Credit: The National Museum of the Royal Navy
Each submarine usually made more than one Jolly Roger flag, with the commanding officer retaining the best example, and other crew members making their own.
This accounts for there being flags of different sizes, and using different symbols, from the same submarine. An example of this can be seen below.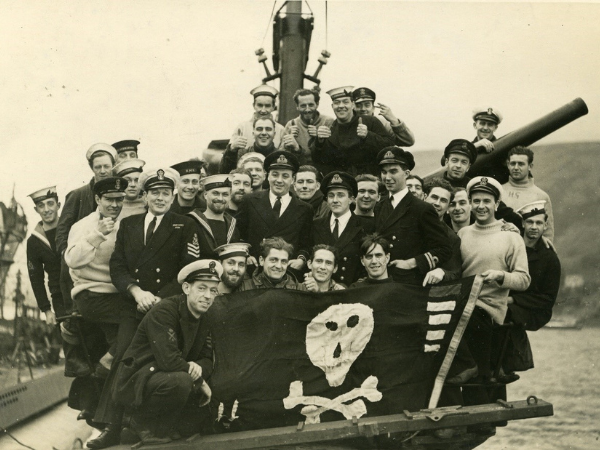 An example of another Jolly Roger on HMS Seraph – Credit: The National Museum of the Royal Navy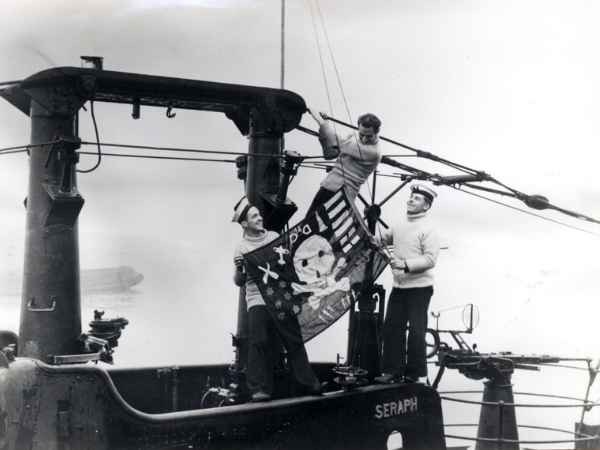 A third example of a Jolly Roger being raised on HMS Seraph – Credit: The National Museum of the Royal Navy
The flag itself can be seen on display in the Pioneers to Pirates Gallery at the Royal Navy Submarine Museum in Gosport, operated by the National Museum of the Royal Navy.