Director-General Prof. Dominic Tweddle to step down at National Museum of the Royal Navy
Date published 20/11/2023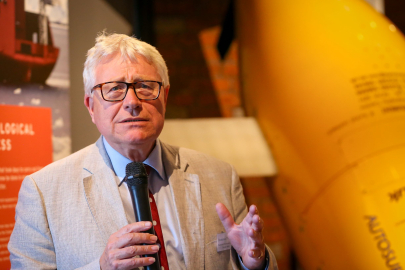 Matthew Sheldon, the current Executive Director of Museum Operations, to take over as interim DG.
 
Professor Dominic Tweddle will be leaving his post as Director-General at the National Museum of the Royal Navy (NMRN) on 30 November 2023 to focus on completing some personal projects. 
Matthew Sheldon, the current Executive Director of Museum Operations, will be assuming the role of Director-General on a temporary basis and will work together with the wider Executive team to ensure a seamless continuation of work while they appoint Dominic's permanent successor. 
Professor Tweddle was appointed in 2009 as the first Director General of the National Museum of the Royal Navy which then did not exist. Indeed, it was his first task to create one. This he did by bringing together four existing smaller museums, namely the Royal Naval Museum in Portsmouth, the Royal Naval Submarine Museum in Gosport, the Fleet Air Arm Museum in Yeovil and the Royal Marines Museum in Eastney. 
Along the way Dominic worked with the Ministry of Defence to negotiate the iconic HMS Victory being transferred into the NMRN Group. Other ships have been rescued along the way. One such is an historic First World War Coastal Bombardment Vessel which was gifted to NMRN by Hampshire County Council and resides in an historic dock. Another ship from the same period is HMS Caroline, a light cruiser which fought at the Battle of Jutland and which was a finalist for the Art Fund Museum of the Year Award. 
Two other ships already saved by other determined organisations have been brought within the museum collection, including HMS Warrior in Portsmouth, HMS Trincomalee in Hartlepool.
During the Covid period and despite its difficulties Dominic found time to complete the effort to secure the future of yet another historic naval craft, this time in the form of a Landing Craft for Tanks, built for the D-Day Landings. This required securing £7.5 million from the Lottery and other donors.
The Chairs, Trustees and Staff of the National Museum of the Royal Navy wish Dominic well for the future.