Belfast's First World War ship set for maritime triple christening
Date published 05/10/2023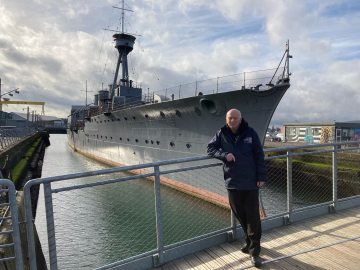 Two local former seaman who served onboard HMS Caroline - Belfast's iconic First World War battleship - will revive an age-old family maritime tradition when their grandchildren are christened together onboard the historic vessel on Sunday 22nd October.
Ballymena-based John Taylor served as an engineer onboard HMS Caroline for 29 years, while East Belfast's Billy McConkey served on the ship for forty years.
When John and Billy revive this naval custom onboard HMS Caroline, it will be even more poignant as it is going to be the last christening ever using the vessel's treasured ship's bell. A highlight of the HMS Caroline collection now on display as part of the visitor tour, the bell is being brought out of retirement one last time specially for this unique occasion. 
HMS Caroline has played a huge role in every facet of John Taylor's life. Now an HMS Caroline Volunteer, he met his wife, Eileen, on the ship who was also serving onboard at the time.
The triple christening is being conducted by Bangor's Reverend Desmond Hanna, who christened John's daughter - also named Caroline after the ship - onboard 47 years ago, with the same ship's bell to be used for the triple christenings later this month. John's other daughter, Joanne, and son, Michael, were also christened onboard HMS Caroline, as was Billy's own son. 
HMS Caroline is woven into the fabric of Belfast's maritime heritage and her remarkable history and legacy continue to live on through many of the local men and women who served onboard right up to 2011. 
It has been a longstanding tradition for serving navy men and women to christen their children on their ship. The same was true of HMS Caroline with generations of local people who served onboard having christened their new-borns there since her arrival in Belfast back in 1924.