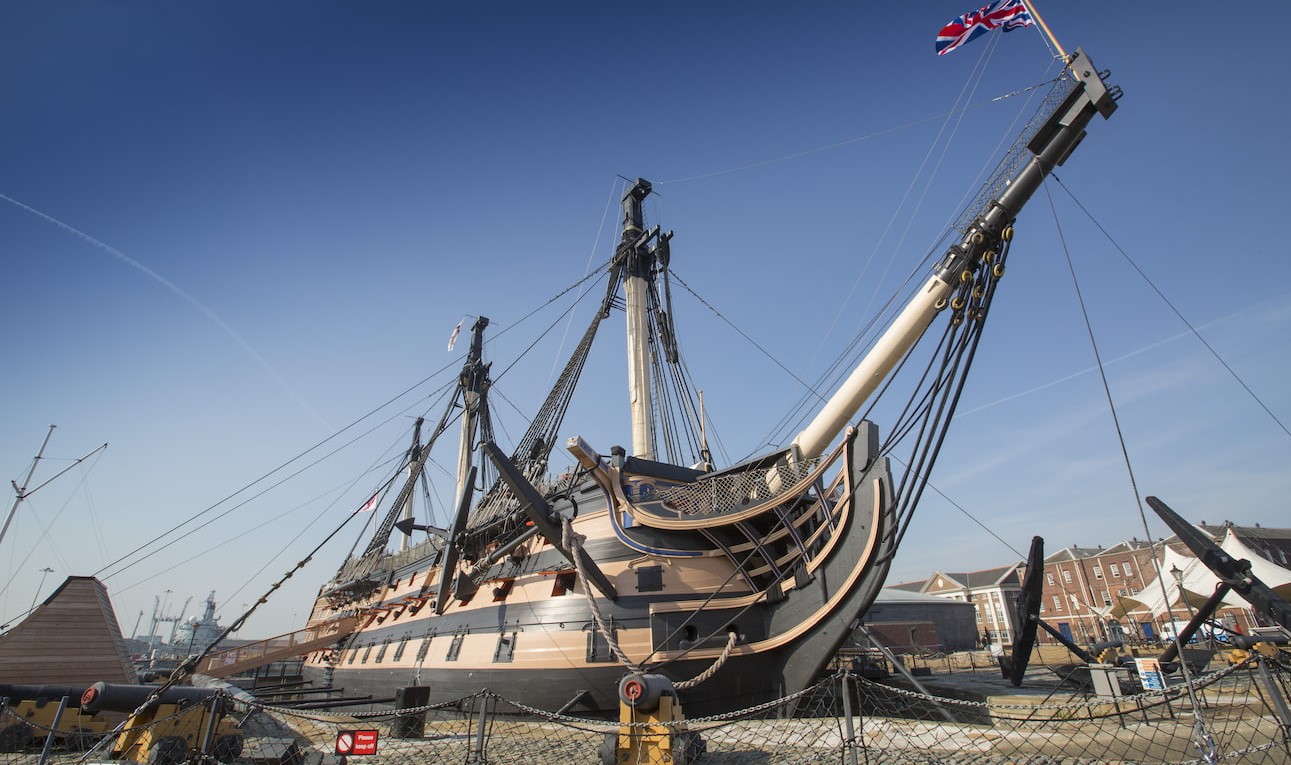 Visit National Museum of the Royal Navy at Portsmouth Historic Dockyard
Plan a visit
Set sail and embark on a journey through time by visiting the National Museum of the Royal Navy at Portsmouth Historic Dockyard.
Explore Nelson's legendary warship aboard HMS Victory, discover the pride of Queen Victoria's fleet in HMS Warrior, and delve into one of only three surviving British warships from the First World War still in existence in HMS M.33.
Walk in the footsteps of historic sailors with picturesque views across the harbour surrounded by some of the most famous ships in naval history at Portsmouth Historic Dockyard.
You can also hop onto our waterbus service at the Portsmouth Historic Dockyard and visit our two exciting Gosport sites; Explosion Museum of Naval Firepower and the Royal Submarine Museum both of which are included with your ticket!
At Portsmouth Historic Dockyard, you can also visit our partners at The Mary Rose Museum where you will discover the fascinating story as she went from King Henry VIII flagship to being recovered from the depths of the Solent and dramatically restored at Portsmouth Dockyard.
Action Stations due to reopen Summer 2022 but you can still access our Laser Quest facility, booking can be made here.
The National Museum of the Royal Navy brings history to life by showcasing treasures from the past 350 years and finding the common threads which link the sailors of the Royal Navy's past to the crews of today.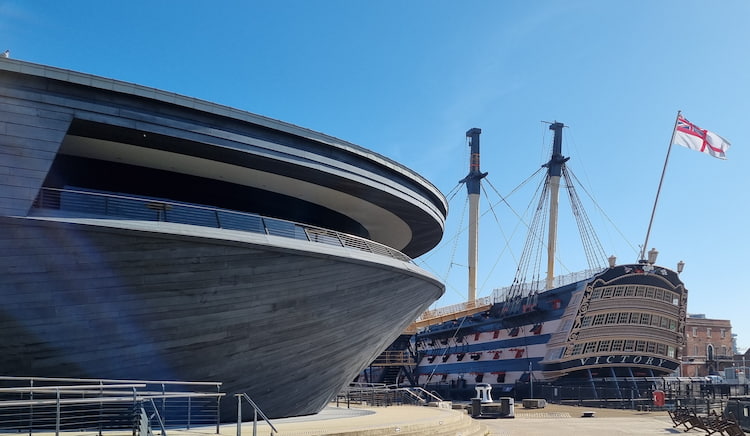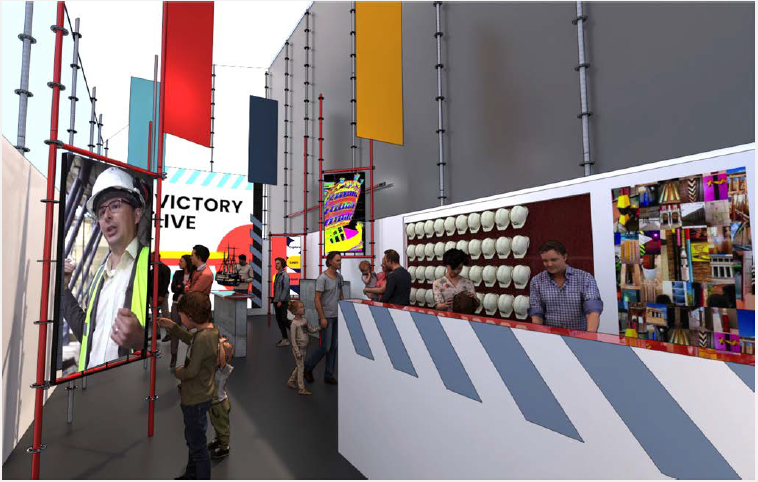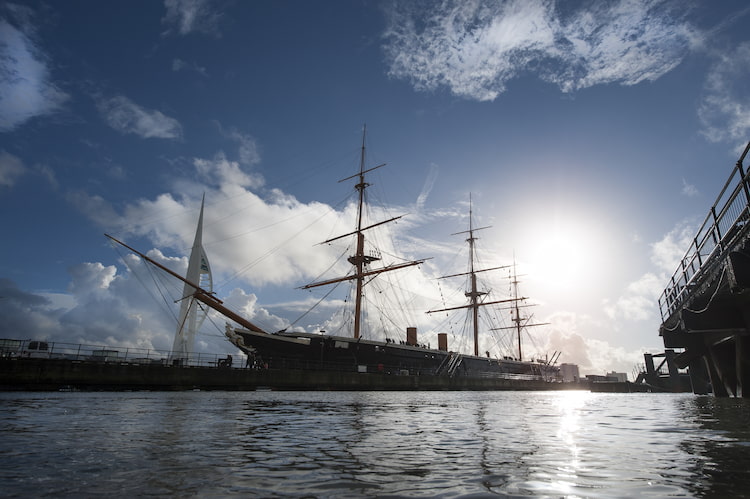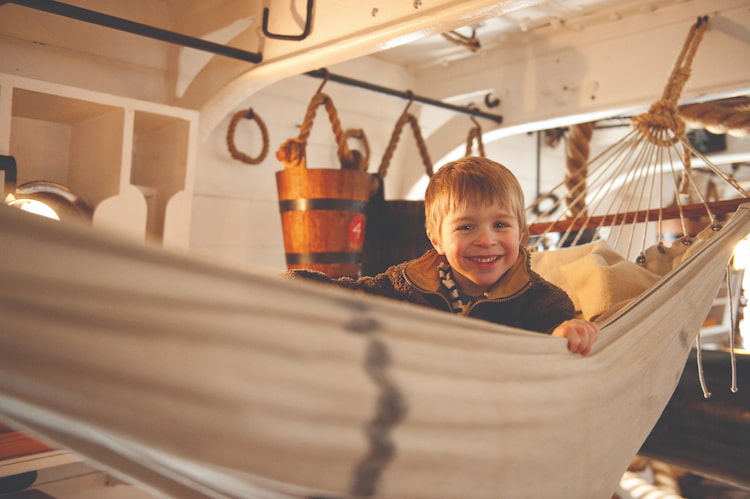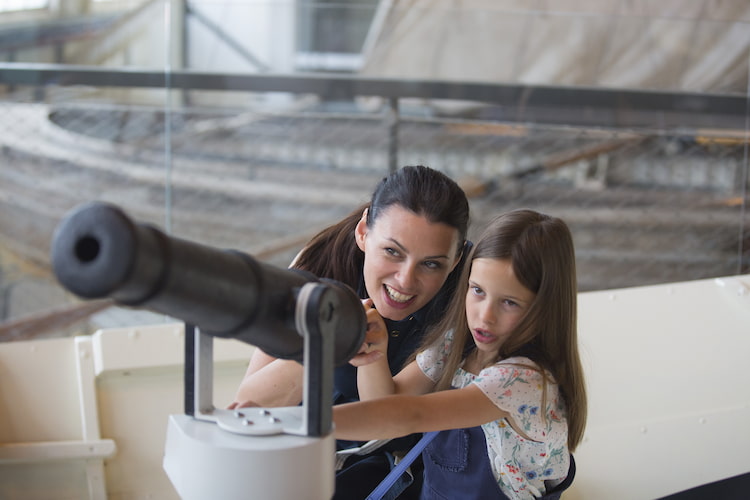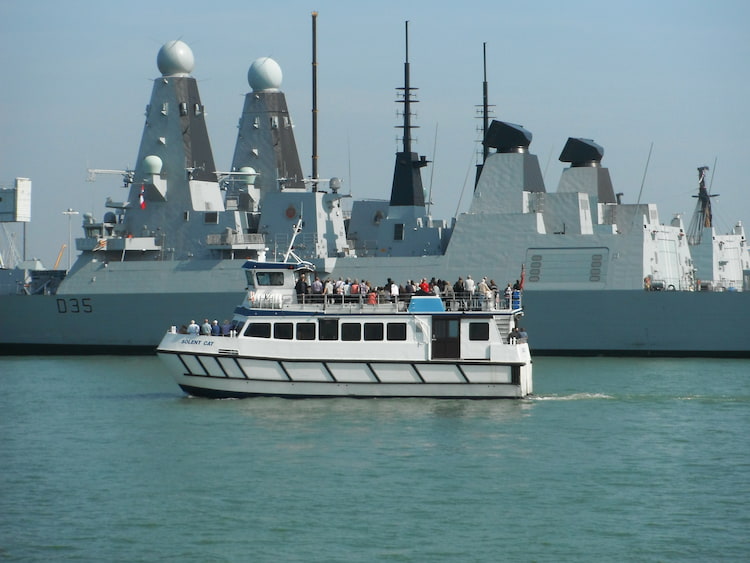 Experience the Royal Navy like never before
At the National Museum of the Royal Navy at Portsmouth Historic Dockyard you get an unparalleled opportunity to explore famous ships like nowhere else.
Actually climb aboard our celebrated ships from different eras of history including HMS Victory, HMS Warrior and HMS M.33 and get a first-hand experience of what life was like serving in the Royal Navy throughout history.
Aboard our ships you will be transported back in time and meet some of the famous sailors in history. From Captain Hardy aboard HMS Victory to Admiral John Fisher on HMS Warrior you will find out about the adventures they had while serving in the Royal Navy.
From the personal stories of the servicemen and women who served in the Royal Navy to some of the most famous warships in history, there is something for everyone at the National Museum of the Royal Navy Portsmouth.
Victory Live: The Big Repair 
Get under the skin of HMS Victory in our latest visitor experience Victory Live: The Big Repair. Learn about the once-in-a-lifetime project to fight the impact of moisture, fungus and pests that threaten her; meet the incredible teams fighting to protect her and see her like never before by climbing aboard the scaffold that encases her in this unique and groundbreaking experience.
Included as part of your HMS Victory ticket, you will be allowed access to the scaffold surrounding the ship, getting up close to painstaking work taking place to preserve her and you will also meet some of the incredible teams of craftsmen, conservators, engineers and shipwrights who seek to protect her for the next 50 years. A family trail is also available for young explorers keen to understand the scale and spectacle of the project.
Please be aware that access to the scaffold may be limited due to operational circumstances, where possible we will inform visitors ahead of their visit. The scaffold is accessible via a lift for those with mobility issues. 
Find out more about Victory Live: The Big Repair 
Galleries that inspire
The museum's major gallery Hear My Story tells the undiscovered stories of the ordinary men and women of the ships which have shaped the Navy's amazing history and connects them to the Royal Navy of today.
The Sailing Gallery shows the realities of fighting at sea in the age of sail, the Nelson Gallery examines Nelson's colourful, crowded and short life.
The newest and most interactive gallery is our Sir Donald Gosling Victory Gallery which explores the history of Britain's most famous warship. Find out how she went from being the flagship of Vice-Admiral Nelson, to being in a state of disrepair before the state-of-the-art conservation project still going on today rescued her.
With an array of exhibitions, galleries, and tours, come and catch a glimpse of what life was like in the Royal Navy at the National Museum of the Royal Navy at Portsmouth Historic Dockyard.
HMS Victory Conservation
HMS Victory will be undergoing major new conservation work which starts Wednesday 24 May 2022. There will be temporary scaffolding while this work is done and this is due to complete in time for the busy summer holiday period. The ship will remain open to visitors but access may be restricted for limited periods. Visitors are advised to keep up to date on the website and @NatMuseumRN.
Plan a visit
By car:
Portsmouth Historic Dockyard is less than 5 miles from Junction 12 of the M27. Follow the brown and white signs to 'Historic Dockyard' which will lead you to our official 295 space car park which is located only 400 yards from the entrance at Victory Gate.
If you are using a Sat Nav device, our car park postcode is PO1 3GW (Admiralty Road)
By rail:
South Western Railway run frequent trains from London Waterloo to Portsmouth Harbour, with a journey time of only 90 minutes. There are also regular services to and from Southampton Central with links to the South West and the West country. Portsmouth Harbour train station is only 200 yards from the entrance to Portsmouth Historic Dockyard.
By bus/coach:
Many local and regional bus services stop at the Hard Interchange (adjacent to Portsmouth Historic Dockyard entrance). Please visit First Bus, Stagecoach or Bluestar Bus services for the most up to date routes and timetables.
To arrange coach parking please contact our Advanced Sales Department on 02392 839766 (opt 3) or email us at enquiries@historicdockyard.co.uk. The majority of national coach services to Portsmouth stop at the Hard Interchange (adjacent to Portsmouth Historic Dockyard entrance).
By ferry:
Ferry services operate from France, Spain, the Isle of Wight and Gosport on a regular basis by the companies:
Wightlink Ferries
Gosport Ferry
Brittany Ferries
Hovertravel
We welcome all visitors to the Dockyard and we have tried to make it as safe as possible. However, some of our attractions are historic buildings and ships, and we know that there can be challenges for some visitors. We have included information below to help you understand a bit more about the site, to help you plan in advance and to decide if you think that your visit will be impaired at all. For those who believe they will be limited in their visit or need extra support we do offer access restriction discounts, free carer tickets and on-site additional support.
Moving around our ships:
Our ships may have been seaworthy for sailors, but they can be tricky to navigate for some. HMS Victory contains steep stairs, rope bannisters, low ceilings, narrow and low doorways, low light levels and uneven floors. It can also be slippery on the upper decks when wet.
There is wheelchair access to Lower Gun Deck where a DVD tour runs, subject to availability and audio guides are available.
HMS Warrior is accessed via a ramp. As she is still afloat the gradient can change with the tides and we would recommend entering at low tide if that is a concern, tide times can be accessed here.
HMS Warrior also has steep stairs with rope bannisters, trip hazards, low ceilings, poor lighting and can be slippery on a wet day. There is however and an accessible route marked on the deck plan and includes a fixed bannister staircase at the rear of the ship and a stairlift between the upper deck and the main gun deck (suitable for visitors who are able to transfer themselves to the stairlift). Wheelchairs must be left on the upper deck and a manual wheelchair is available for visitors to use on the main gun deck. Staff are on hand to help throughout the ship.
HMS M.33 is more accessible than some of her older counterparts. Wheelchair access to the lower deck is available via a lift and upper deck stairs are more generously spaced. There are some steep stairs in place and our Audio Visual Experience does not have subtitles and can be upsetting for some.
HMS Alliance, based at the Submarine Museum in Gosport, is not accessible for wheelchairs and like the submariners who served on her, visitors will experience dark, cramped spaces, with low ceiling heights and trip hazards.
We welcome families but the nature of our ship does mean that pushchairs are not permitted on board any of our ships.
Accessing our museums and attractions:
We have tried to make our museums and buildings as easy to move around as possible. However, there is always more we can do and they do still have some limitations as they are often based in historic buildings. This means floors can be uneven but are negotiable for wheelchairs and buggies.
Galleries have a mixture of handling exhibits, film and audio displays and most have hearing loops. Audio transcripts or large print text is also available, just ask our staff.
Harbour tours:
You can combine your visit on land, with a trip out to sea on one of our Harbour Tours or taking a Waterbus to our Gosport sites.
Two manual wheelchairs are available to borrow on the Harbour Tours service (depending on the vessel). Electric wheelchair users can switch to a manual wheelchair, which can be collected at our Visitor Centre. Pre-booking of those spaces can be arranged by calling 023 9283 9766 or Solent and Wightline Cruises on 01983 564602.
Unfortunately, the Waterbus service to Explosion Museum of Naval Firepower and the Submarine Museum is not accessible for wheelchairs. Depending on the demand for spaces on board the vessel, it may be possible to take a folded manual wheelchair onto the vessel. There are a couple of large steps onto and off of the Waterbus. However, you can access those sites by car.
Accessible toilets and facilities:
Accessible toilets are available in the National Museum of the Royal Navy.
Portsmouth Shopmobility scheme provides powered scooters to members of the public with limited mobility to hire. These are available at our Visitor Centre at the Dockyard entrance. These are sometimes unavailable in adverse weather conditions.
Booking is recommended and this can be done via email portsmouthdutymanagers@nmrn.org.uk or phone 02392 839 766 Ext:2083.
There are fifteen disabled spaces available in the Portsmouth Historic Dockyard car park, located in Admiralty Road approximately 400 metres from the dockyard entrance.
We have a number of shops and cafes available on site offering hot and cold food and drink. The National Museum of the Royal Navy Shop, is accessible to wheelchair and pushchair users.
Supporting you on site:
Our staff are there to help make sure that every one of our visitors has a great day out so please do ask them if you require additional support. Whilst the military base does not allow animals on site, an exception is made for assistance animals and guide-dogs who are permitted in all areas.
We also offer carer tickets free of charge if you would feel more comfortable bringing someone to support you and particularly recommend this for visually impaired visitors to help them negotiate some of the uneven flooring and difficult spaces.
Legal statement:
We do ask all of our visitors to take care when on site and to pay attention to the safety notices around our site. Whilst we do take every precaution, visitors do access the site at their own risk and we will not be responsible for any direct, indirect or consequential loss, whether in contract, tort (including negligence), for breach of statutory duty, or otherwise, arising under or in connection with your visit to our site, including for loss or damage to property.
We do not limit or exclude our liability for death or personal injury caused by our negligence or any other liability which cannot be limited or excluded by applicable law.
If you have any questions ahead of your visit or would like to find out more about any of the services offered on this page, please contact our Visitor Engagement Team at enquiries@historicdockyard.co.uk.
Bag Search:
You may take a reasonably sized bag/rucksack into Portsmouth Historic Dockyard but a welcome host will need to search your bag at the point of entry. This process will also occur if you decide to leave the dockyard and re-enter on the same day.

If an item is removed from your bag, it will be put into secure storage at the visitor centre. You will then be given a ticket which states your name, address and contact number and you can collect it from the visitor centre at the end of your visit or within 10 days.

If you do not allow an item to be confiscated you will not be allowed to enter the dockyard
Prohibited Items:
This list of restricted items is provided by the Royal Navy and the MOD Police.
Bicycles (without a base pass)

Drones

Animals (except service dogs, guide dogs and assistance animals)

Darts

Explosives or ammunition

Fireworks

Knives

Blades

Other weapons considered dangerous (including pepper or noxious sprays)

Firearms

Smoke canisters

Illegal substances

Signs or items with inappropriate text or branding

Unauthorized fliers

Spray paint

Large suitcases or Luggage

Illegal charity collection utensils or any article that may be used as a weapon and/or compromise public safety or which may pose a hazard or nuisance to any other person, or any article to be used for a commercial or a charitable purpose

Clothing with offensive signage or logos

Gang patches

Any clothing or item worn deliberately to obscure the face for what might be considered illicit purposes (e.g. bandanas, masks etc.), but with the exception of cultural observance such as a Niqab or Burkha.

Laser pointers (except when being used for educational purposes)
Buggy Park:
Portsmouth Historic Dockyard has two buggy parks available to visitors. One is located outside HMS Victory and another by the harbour tours. Please note that your buggy and any items left in the buggy are left at your own discretion and we take no responsibility for anything lost or stolen.
Accessible Toilets:
Accessible toilets with baby changing facilities are located in Boathouse 4, Boathouse 7 and the Mary Rose Museum. These are all open to the public visiting the dockyard.
WiFi:
Free WiFi is available to our visitors. You will need to sign in and agree to terms and conditions.
Pets:
Pets are not allowed on site in accordance with Royal Navy bylaws. However, assistance animals are allowed on the dockyard. If you have further enquiries you will need to email enquiries@nmrn.org.uk
A wide selection of food and drink is available to purchase at Portsmouth Historic Dockyard. We have multiple cafes across the site including; Boathouse 4, Boathouse 7 and the Visitor Centre.
You are also welcome to bring your own food and have a picnic on site. There are numerous benches around the Port Arena attractions and Boathouse 7 or you can visit the Porters Garden.
Our locations continue to implement additional hygiene and safety measures including enhanced cleaning, sanitisation stations, one-way systems and social distancing markers.
The following safety measures will be implemented when visiting the Historic Dockyard attractions;
We strongly encourage face masks to be worn by all visitors aged 11 years or older, unless medically exempt, while visiting the Dockyard and its attractions
Visitors are encouraged to pre-booked online, however, walk-up visitors will be accommodated
We also strongly encourage visitors to continue to follow social distancing practices
Due to the potential impact of COVID sickness within our teams; NMRN may be required to adjust opening hours or close sites at short notice. Whilst all efforts will be made to avoid this and to contact ticket holders ahead of visits we do ask you to check our Facebook and Twitter accounts for details of closures. We apologise for any inconvenience this may cause and thank you for your understanding.
If you would like to get in touch or have a specific enquiry please email: enquiries@historicdockyard.co.uk.
Groups of 15 or more are welcome at the National Museum of the Royal Navy.
Contact us to book your group visit today. Call at 023 9283 9766 (opt. 3) or Email phd.groups@nmrn.org.uk
Want to come back and experience the thrills of the National Museum of the Royal Navy at Portsmouth Historic Dockyard again?
The pupil premium scheme is an initiative started by Portsmouth Historic Dockyard and supported by Portsmouth City Council to make the Dockyard more accessible for local families. 
If you are eligible but did not receive an email or letter, please contact your local school or Portsmouth City Council to find out why.
You will receive 1 Family Ultimate Explorer ticket valid for 2 adults and 3 children, which is valid for 1 year
(from date of issue), and includes unlimited entry to all Portsmouth Historic Dockyard attractions.
PHD offers a range of discounts to certain groups.  Please see below for who is eligible for any discounts and T&C's applicable. Please note that none of these offers can be used in conjunction with another. All of the offers below are available when purchasing tickets on the gate on arrival and cannot be booked online in advance.
MOD 90 Cardholders
MOD 90 cardholders qualify for free entry, and up to 4 guests receive 25% off our Ultimate Explorer tickets.  This offer can be redeemed in our Visitor Centre, by showing a valid MOD 90 card.  Cannot be purchased online or used in conjunction with any other offer.
Blue Light Cardholders
Blue Light cardholders can receive a 30% discount on an Ultimate Explorer Family ticket, or for up to 4 individual Ultimate Explorer tickets (e.g: 1 adult, 1 senior, 2 children).  This offer is a walk up offer and can be redeemed in the Visitor Centre by showing your Blue Light card.
Defence Discount Service
Defence Discount Service cardholders can receive a 30% discount on an Ultimate Explorer Family ticket, or for up to 4 individual Ultimate Explorer tickets. This offer is a walk up offer and can be redeemed in the Visitor Centre by showing your Defence Discount card.
Veterans
Veterans qualify for a £20 Ultimate Explorer ticket.  This can be purchased in the Visitor Centre.  There are many different ways you can show your veteran status and purchase this ticket.  We will accept the following: Veterans card, Veterans rail card, discharge papers.  If you are wearing a veterans pin badge we will also accept this. 
Blue Peter
Children with a Blue Peter badge are entitled to free entry, alongside purchase of a walk up rate (full price)  Ultimate Explorer ticket.  The ticket does not need to be purchased at the same time, but you must be able to show that you have previously bought a full price Ultimate Explorer Ticket.  If you have purchased your ticket online, the £5 upgrade must be paid on the day of your visit.  A child can visit with different parents/carers as long as they have a valid full price Ultimate Explorer ticket.  We simply issue a free child day ticket from our Visitor Centre in any of these scenarios.
Art Fund/National Art Pass
Members/cardholders are entitled to a 50% discount off our Ultimate Explorer tickets.  The discount will apply to tickets that correspond with your membership.  So single memberships will get 50% off and adult or senior Ultimate Explorer ticket, joint memberships will get 50% off 2 adult/senior Ultimate Explorer tickets, and family memberships are entitled to 50% off a family Ultimate Explorer ticket.  This offer is a walk up offer only.  Art passes must be shown at time of purchase and tickets are available from the Visitor Centre on the day of your visit. 
Portsmouth Leisure Card
Leisure card holders are entitled to 50% off a family Ultimate Explorer ticket, or 50% off 4 individual Ultimate Explorer tickets (adult, senior or child).  This offer is available as a walk up offer only.  Please show your purchase Leisure card at the Visitor Centre when you buy your tickets. 
Book your tickets now
Pick from our best value Ultimate Explorer Ticket, Three Attraction Explorer Ticket or the Single Attraction Day Ticket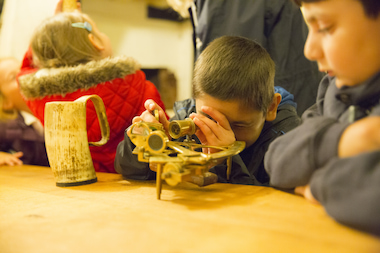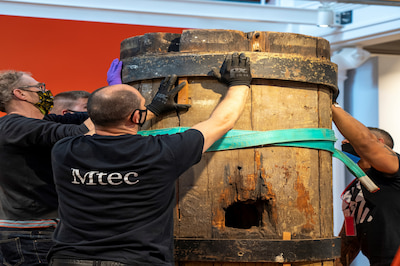 Support Us
As a charity we rely on funding from many sources to preserve the rich history of the Royal Navy
See how you can support us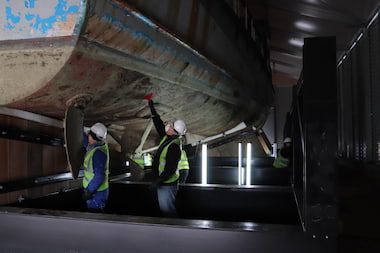 View our collection online
Discover our incredible range of items across the key branches of the Royal Navy with our online Collections Portal
See the collection
Gift shop
All profits from our online shop go towards preserving Naval heritage. Thank you for your support.