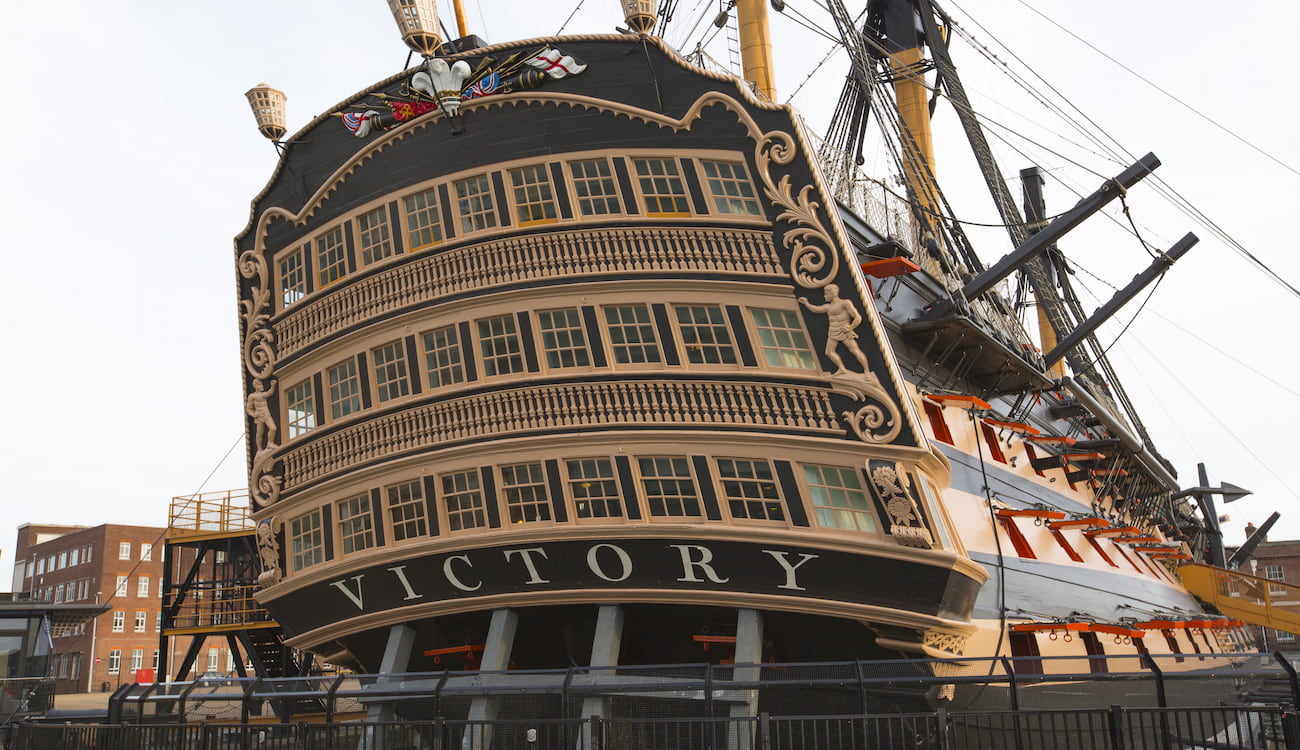 HMS Victory
Open Daily from 10:00am
Step aboard one of the most celebrated warships in Britain's naval history, HMS Victory.
See HMS Victory through Vice-Admiral Lord Nelson's eyes as his flagship is presented as she was in her Georgian heyday. Soak up the atmosphere as the ship and her crew get ready for the Battle of Trafalgar, see where sailors and officers ate and slept, and feel the drama and impact of the day that changed history forever.
You will be able to explore every nook and cranny of HMS Victory, from The Great Cabin, where battle plans were drawn up, right through to the lower gun deck where you will catch a glimpse of what it was like to live and fight under Nelson.
Occasionally, Captain Hardy may be in his cabin, greeting visitors with tales from his adventures at sea. Ask him questions and find out what life was like on board.
Plan your visit
Located in Portsmouth's Historic Dockyard, HMS Victory is open all year round from 10am every day. Portsmouth Historic Dockyard is a great place to bring the family, celebrate birthdays and special occasions. You can also enjoy weekends, holidays, and days off, having quality time out in good company.
Learn everything you will need to know to plan your visit to the Portsmouth Historic Dockyard, including details on accessibility, audio guides, and parking.
Conservation
With over 260 years of history and participating in six major battles over an unusually long service, the National Museum of the Royal Navy is committed to preserving Vice-Admiral Lord Nelson's flagship, HMS Victory.
The ship is currently undergoing the biggest restoration programme in her history following guidelines set out in the National Historic Ships UK (NHSUK) Publication 'Conserving Historic Vessels'.
HMS Victory will be undergoing major new conservation work which starts Wednesday 24 May 2022. There will be temporary scaffolding while this work is done and this is due to complete in time for the busy summer holiday period. The ship will remain open to visitors but access may be restricted for limited periods. Visitors are advised to keep up to date on the website and @NatMuseumRN.
Book your tickets now
Book your visit to the National Museum of the Royal Navy Portsmouth now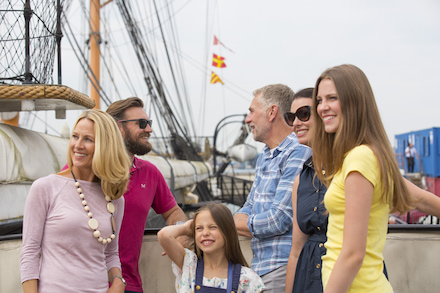 Fun for all the family
Save by booking one of our family ticket bundles
Book online now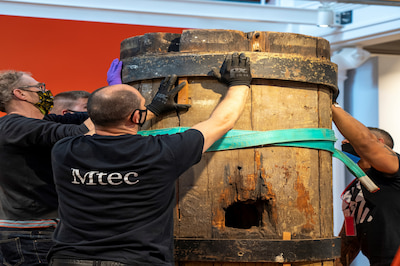 Support us
As a charity, we rely on funding from many sources to preserve the rich history of the Royal Navy
See how you can support us
View our collections online
Discover our incredible range of items across the key branches of the Royal Navy with our online Collections Portal