Yeovilton Military Wives Choir Remembrance Concert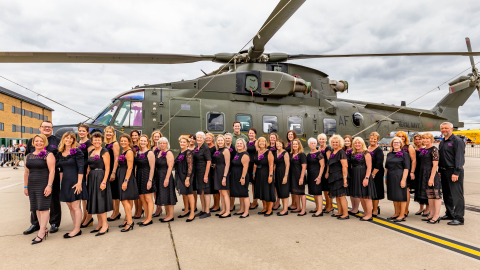 Join us under the wings of Concorde for what promises to be an enjoyable yet reflective evening of music with the Yeovilton Military Wives Choir.
The Yeovilton Military Wives Choir formed in September 2012 as a result of the outstanding success of the original Military Wives Choir. The Yeovilton Choir now has over 50 members who meet weekly in Ilchester to have fun, rehearse together and provide mutual support as they deal with the challenges of Service life.
As one of 72 Military Wives Choirs that have now been established across the UK and abroad, the Yeovilton Military Wives Choir is part of the Military Wives Choirs Network.
Led by Musical Director Matthew Rock, and supported by Deputy Musical Director and Accompanist Ann Faulkner, this stirring concert promises to be a wonderful evening of entertainment.
Doors open at 19:00 for a 19:30 start. There will be an opportunity to purchase refreshments before the concert and during the interval.
Military Wives Concert Tickets are £18 per person.
Tickets do not include day museum entrance.
For more information on the Yeovilton Military Wives Choir, please visit www.yeoviltonmilitarywiveschoir.com/