Wargames Weekend with the Naval Wargames Society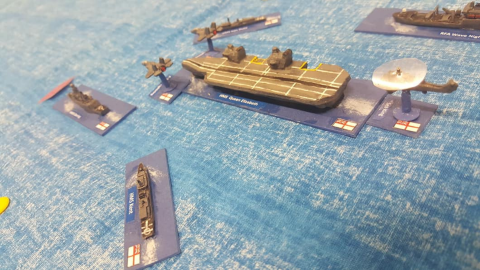 The Naval Wargames Society and its members will re-create many historic battles in miniature model form in the Museum Swordfish Centre.
There will be numerous display and participation games covering many periods of naval history.
Games and Demonstrations Include: -
Battle of Brest - 1513 saw Henry VIII's Admiral sent out with the Navy Royal to find and take the French fleet to task. Will the cutting edge of Tudor naval technology and valorous commanders be able to defeat France's impressed fleet supported by a squadron of 'Le Roi's' Galleys?
Battle of Djerba 1560 - Renaissance fleet action off the North African coast. Ottoman galley fleet emngaging the Christian Alliance galley fleet fighting for control of the fortified island of Djerba.
Bantry Bay 1796 - A 'What If' Scenario that sees a French squadron under Commodore Bedout with eight warships attempting to escort four troop transports into the anchorage in Bantry Bay opposed by Sir Edward Pellew's Inshore Squadron and supported by Sir James Saumarez and the Fast Division  from the Channel Fleet, fought in 1:700 scale.
A hypothetical Aegean engagement between the Italian and Austrian Navies. Set in 1908 using an adaption of David Manley's Broadside and Salvo rules and 1/2400 ships. 
This event is not covered by museum entrance cost and is run privately by the Naval Wargames Society.
For more details on entry costs, please visit: