Royal Marines School of Music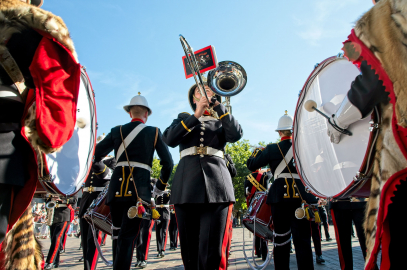 See some of the world's top military musicians perform at Portsmouth's Historic Dockyard and have a rare chance to meet them up close and personal. 
On Saturday 15 July forty musicians from Portsmouth's Royal Marines School of Music will give a marching display. 
Major Daryl Powell, Director of Music Training at The Royal Marines School of Music, said:
"We're excited to meet the public and delighted to be back at the Historic Dockyard. There's really nothing better than playing beside HMS Victory and if anyone wants to know what life is like under our famous pith helmets, now's the chance to find out."
The display will start at 2:00pm at the entrance of Portsmouth Historic Dockyard (Victory Gate), travel up through the site, before coming to a halt outside HMS Victory where they will meet the public before marching back into the Naval Base.
You will need a valid ticket to gain access to Portsmouth Historic Dockyard. Click here to find out more information on ticketing options.