Preserving the Past - Fleet Air Arm Museum's Conservation Week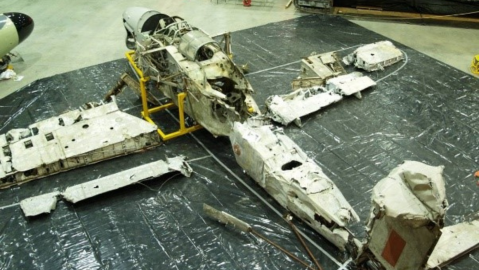 Join us during May Half Term to hear the story of Conservation at the Fleet Air Arm Museum, and find out about how we look after our aircraft and collection.
Barracuda Project
Discover more about the Barracuda Project- a plan to piece together the world's only Second World War Fairey Barracuda Aircraft.
Over 2500 Barracuda aircraft were delivered to the Fleet Air Arm, more than any other type ordered by the Royal Navy to date. Unlike other more iconic aircraft of its era none were retained for posterity and no complete examples exist today
The project started in the 1970's and the museum has been collecting Barracuda components from a wide variety of sources throughout the British Isles, with the long-term aim of rebuilding a Barracuda.
Meet the museum restoration team and get up close and personal with REAL pieces of the aircraft and find out about the progress of the project.
Immersive underwater Virtual Reality experience by Wessex Archaeology.
Created by Wessex Archaeology, explore an immersive Virtual Reality underwater wreck site.
In 2019, Wessex Archaeology recovered the remains of Barracuda aircraft at Lee-on-Solent, Hampshire.
This immersive virtual reality experience will show the underwater conditions in which the Barracuda was found as well as getting up close and personnel to the wreckage itself.
Wessex Archaeology will be here on Tuesday 30th May.*
Banish the bugs!
Did you know that insects can cause damage to our artefacts?
Our curatorial team will be talking about the creepy crawlies that can damage our collection and see how we keep them at bay!
All activities are running from Tuesday 30th May to Friday 2nd June. Please check on the day of your visit for timings
All activities are free with a valid museum ticket.
*Due to a technical issue, we no longer can provide the underwater VR experience. This will be replaced by our F-35 aircraft experience. Get to experience what it is like to be an F-35 pilot and take to the skies in this F-35 experience.