NEW! For 2024- Stargazing for Uniformed Groups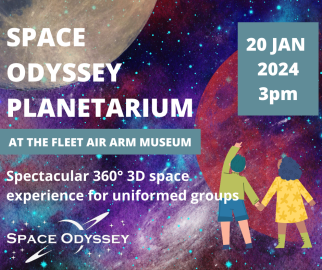 Join us on Saturday 20th January 2024 as we welcome Space Odyssey to the Fleet Air Arm Museum, for an evening of enjoyable stargazing in Space Odyssey's enormous Planetarium dome.
This year, we have introduced a timeslot within the museum day, for Uniformed Groups ONLY.
If you are looking for our general public timeslots, please see our other Space Odyssey event.
This package offer includes:
-    An entire day to explore the museum, and complete your badgework, including the Aircraft Carrier Experience.
-    Access to the 15:00 Planetarium Show.
-    An opportunity to have all your complicated questions answered by our knowledgeable volunteer team.
-    A copy of our Uniformed Groups STEM Trail.
-    A space alongside other Uniformed Groups to use for lunch, badgework activities etc.
Supervising Adults go free (within the appropriate ratios), and Children are £22pp.
Spaces are limited, so book in your Guides, Beavers, Cadets and all other Uniformed Groups quickly, by emailing Groups@NMRN.org.uk .