Commando Chef: Cooking with the Royal Marines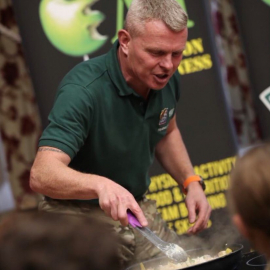 Join us for live cooking demonstrations from the Royal Marine's 'Commando Chef' Mike Beaton, and learn how to fuel yourself with delicious, healthy, and easy meals - with tasters included! 
Mike is a former GB athlete and Royal Marine, who has served on operational tours of duty, including in Northern Ireland and Sierra Leone. As a Royal Marine chef, he travels round the country using food to inspire, enthuse, and educate.
As a Royal Marine chef, Mike's mission is to enthuse, inspire, and educate young people through the platform of food. He started making shorts as the 'Commando Chef' in his kitchen, bringing in more than 8 million views and counting. 
Demonstrations will take place in Action Stations on 16 and 17 August (11am to 12pm and 1.30pm to 2.30pm). Entry to the event is included with a valid attraction ticket.