Collections Uncovered: Battle of the Atlantic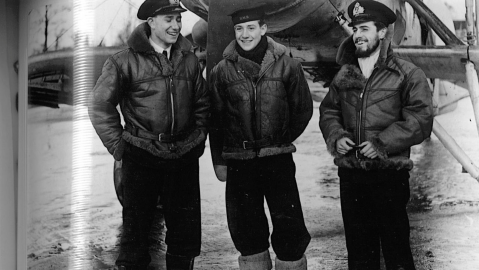 Join us on 26th May for a day of events to mark the 80th Anniversary.
The Battle of the Atlantic was not a singular battle, but a nearly six-year long campaign for control of the Atlantic Ocean. Allied convoy vessels carried vital supplies from North America to the war effort in Europe. Desperate to cut off these supply lines, German submarines and warships attacked British, US, Canadian and allied merchant shipping forces, with great losses to all sides. Throughout the day you can find out more about this perilous time in British history through Fleet Air Arm squadron accounts and artefacts from the period, presented within our pop up exhibition.
At 11:30 am, curators from the Fleet Air Arm Museum will be in Hall 2 speaking to the public about the Fleet Air Arm's involvement in the Battle of the Atlantic. They will be showcasing items brought out from the Archive specifically for this event.
At 1:30 pm, the curators will be back in Hall 2 to give a 20 to 30-minute presentation about Fairey Swordfish onboard Merchant Aircraft Carriers (MAC ships) and how they were deployed to detect and destroy U-boats during the Battle of the Atlantic.
Free with a valid museum ticket.